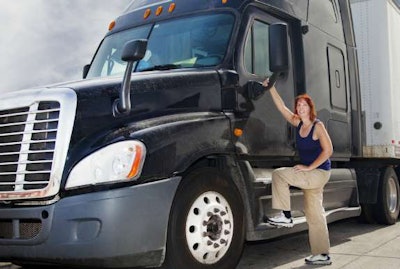 New legislation introduced in the U.S. Senate last week directs the Department of Transportation to bring more women into the trucking industry.
The "Promoting Women in Trucking Workforce Act" was introduced Thursday, Nov. 14, by Sens. Jerry Moran (R-Kansas) and Tammy Baldwin (D-Wisconsin). The bill would require the Federal Motor Carrier Safety Administration to establish a "Women of Trucking Advisory Board" to help increase the number of women in the industry.
The bill requires the board is to:
Identify industry trends that discourage women from pursuing trucking careers
Find ways trucking companies, nonprofit organizations and trucking associations can coordinate to support women pursuing trucking careers
Find ways to expand existing opportunities for women in trucking
Identify opportunities to enhance training, mentorship, education and outreach programs that are exclusive to women
After the advisory board has identified these issues, FMCSA would be required to submit a report on the findings to Congress.
The bill was sent to the Senate Committee on Commerce, Science and Transportation, which will have to approve the bill before it goes to the full Senate for a vote. It would then have to pass in the House and be signed into law by the president before any of the requirements take effect.