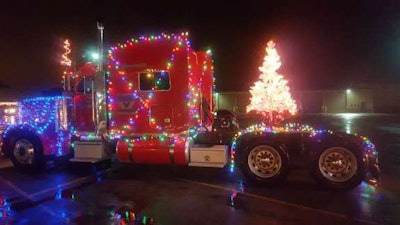 Christmas for numerous families of truck drivers will be brighter this year thanks to a group dedicated to helping their colleagues.
For the 12th year, the Trucker's Christmas Group recently gave $500 each to 25 families across the U.S. and Canada. Volunteers raised some $13,000, a single-year record for the nonprofit.
"We knew there would be several challenges for our organization in 2019," said Mark Abraham, president of TGCO. "Reports of a weakening economy and a record-number of trucking companies closing this year highlighted that we needed to have a larger awareness campaign to raise more funds than ever before this year."
The group received 40 applications for aid, more than double the number from a year ago.
Abraham praised the work of the group's volunteers, saying, "They believe that while Christmas is meant to be a time of hope for many who are facing hard times, they may have lost hope. Our goal is to be that ray of hope that carries them onto a brighter future in the following year."
Gold Sponsors, individuals or businesses that donated a minimum of $500 in cash or products and services, include: the RoadPro Family of Brands, DPF Regeneration, Hoffman Trucking, Air-Tabs, Let's Truck, Oil Purification Systems, Mack Trucks, Volvo Trucks, Real Women In Trucking, Women's Trucking Federation Canada, Owner-Operators Independent Drivers Association, Owner-Operator's Business Association of Canada, 1st Choice Logistics, Site Doctor911, Purolator, Teamsters Local 938, Flow Below, DOT Authority.com, Brake Safe, Pittsburgh Power, and Brittani Martel Relations.