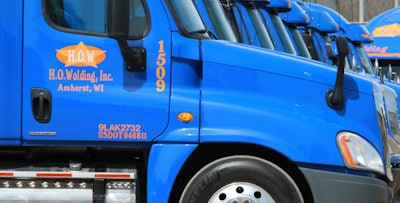 Drivers at a Wisconsin-based carrier will start the new year with a pay raise and other compensation upgrades.
H.O. Wolding recently announced it was starting 2020 with what they say are "multiple pay increases throughout (the) compensation package."
According to a statement from the company, beginning Jan. 1, drivers for H.O. will see the following:
increase in mileage pay for all drivers
$2,000 sign-on bonus for incoming hires
per diem of $66 per day
longevity bonus pay
detention pay of $20 per hour
H.O. Wolding calculates pay on practical miles, which it says has proven to be one of the most appreciated aspects of the compensation package by drivers.
"We just felt that the start of a new year and a new decade for H.O. Wolding was the perfect time to make another statement to our current drivers and future drivers that we want to invest in them and their families," said company President Marc Wolding.
H.O. Wolding is based in Amherst, Wisconsin about 80 miles west of Green Bay. It's owned by Bison Transport, which is located in Winnipeg, Manitoba, Canada.