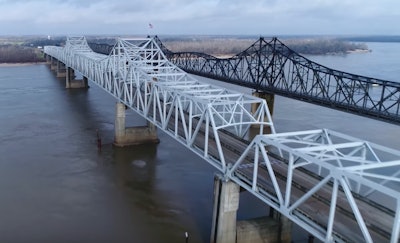 If your trucking travels take you across the bridge over the Mississippi River at Vicksburg, Mississippi, you can expect delays starting Monday, Jan. 20 and lasting at least until early 2021.
The nearly 50-year-old span that carries Interstate 20 over the river will get a complete facelift and some structural improvements, according to the Louisiana Department of Transportation and Development. The bridge is one of only a few interstate highway crossings of the Mississippi.
LaDOT said travelers on westbound lanes of I-20 across the bridge will experience lane closures through Friday, May 15. Throughout the project, the construction will restrict vehicles to a 10-foot maximum width. However, 16-foot maximum width vehicles will be allowed to cross on Fridays from 6 a.m. to 6 p.m.
No formal detours have been established for this work, and LaDOT said there will be no lane closures in both directions at the same time in order to maintain traffic flow.