By any reasonable standard, 2019 has been a busy year for the American trucking industry and those who make a living in it. At times it was rewarding, at other times it was especially frustrating.
We've have tried to wrap up what went on in several stories. Here they are collected all in one place.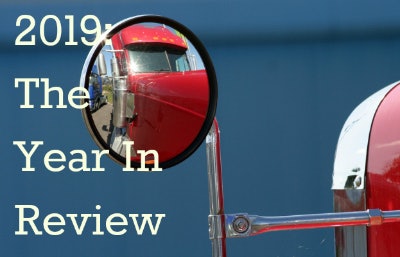 The year now gone was especially rewarding for many truck drivers. Many were recognized for their hard work and commitment to their craft. Others were praised and rewarded for their service to others, especially those in need. We recapped all of the year's winners in: 2019 was a year filled with award-winning truck drivers.
Many of those truckers singled out for their good works were named Highway Angels by the Truckload Carriers Association. They were honored for being, "These drivers stop to help when no one else would," according to Marli Hall of the TCA. Meet all 37 of 2019's angels in: Highway Angels program grows, plans dedicated site.
At times, 2019 seemed like one long skirmish over regulatory issues punctuated by tales of troubled carriers going out of business. But, fortunately, there was more. The last 12 months were also loaded with stories about good folks with good stories to be shared. That was recaptured in: A totally subjective list of our favorite stories of 2019.
And, on the topic of regulatory issues, we took a long look at what went on with them in the past year. During a conversation with our colleague James Jaillet, we revisited what went on in Washington that drivers across the country had to then live with. We also looked at one particular issue in California that worried many drivers and carriers during our end of year podcast: Trucking regs: what happened in 2019, what's ahead in 2020.
As always, we had the opportunity to introduce readers to some exceptional truck drivers, men, and women who go the extra mile not just while driving but in their personal lives as well. We revisited several with our store: Meet five dedicated, interesting drivers who made news in 2019.
We also had the opportunity to chat with one of the key players at the nation's biggest truck stop company. Our podcast with Pilot Flying J's Brian Ferguson recapped what the company accomplished in 2019 and its plans for the new year. Ferguson was featured in our podcast: 2019 was busy for Pilot Flying J; 2020 will be busier
Our 10 most-read stories of the year included:
1. Truckers busted for hauling $2 million of cocaine
2. Unenforced 34-hour restart limits removed by FMCSA
3. Celadon closes, promises to get drivers home
4. Fire destroys four trucks at Indiana truck stop
5. Trucker shot and killed on I-20 in Texas
6. Trucker mows down two telephone poles, arrested for DUI
7. Independent truck stop in Nebraska closes
8. Video of trucker blocking lane draws praise, complaints
9. Violations of federal trucking regulations increase today
10. Truckers organizations react to proposed hours changes
And, here are our most-watched videos of the year gone by.
1. Trucker learns how narrow New York streets can be
2. Dashcam captures trucker's crash in blowing snow
3. Here's something that'll get your truck placed out of service
4. Trucker ticketed in dramatic crash with tow truck on I-43
5. Slick highway sends truck in wrong direction
6. Payback? Motorist brake checks tractor-trailer
7. Dramatic crash with truck captured by surveillance camera
8. Dashcam shows young driver's big mistake
9. Lucky trucker: Steel coil breaks loose, misses driver