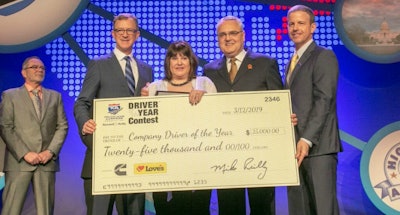 One trucker was honored for her long record of safe driving for a major Canadian fleet. Two were recognized for their heroic actions at the scenes of serious accidents. Several won major national awards for their good works both in and outside their trucks' cabs, while another showed off their driving skills to win a major national competition for the second year in a row. Here are just some of the truck drivers who won awards during 2019.
A woman trucker from Canada was named the Company Driver of the Year during the annual awards banquet at the Truckload Carriers Association's Convention in Las Vegas Tuesday night. It was the first time a woman made it to the final three since 2005. Ester Nemeth, who drives and trains for Bison Transport from Winnipeg, Manitoba, Canada won the award presented by the TCA and Truckers News in ceremonies at the Wynn Las Vegas Resort. Nemeth, who has driven well over 2 million miles in her 30 years on the road, received $25,000.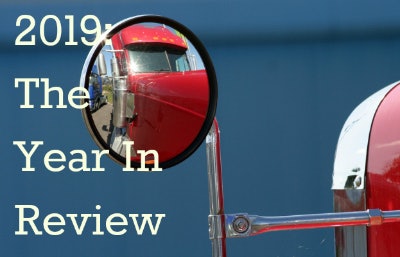 A 38-year-old Army veteran is the winner of the 2019 Mike O'Connell Trucking's Top Rookie Award presented by Truckers News. Dwight Arnold, who lives in Clarksville, Tennessee and drives for Stevens Transport, was announced the award winner Friday at the Great American Trucking Show in Dallas.
Transition Trucking: Driving for Excellence
Roehl Transport driver and veteran Joseph Campbell is the winner of this year's Transition Trucking: Driving For Excellence award, which comes with a prize of a fully-loaded Kenworth T680.
Pilot Flying J Road Warrior Contest Winner
A Tennessee company driver is this year's grand prize winner in the Pilot Flying J Road Warrior contest. Timothy Chelette of Murfreesboro, Tennessee drives for Big G Express, won the $10,000 prize.
Tennessee trucker wins Trucker Talent Search
Taylor Barker, a tank-hauling owner-operator out of Kingsport, Tennessee, won the 2019 Overdrive-Red Eye Radio's Trucker Talent Search contest after a live finale held Friday, Aug. 23 at the Great American Trucking Show in Dallas.
National Truck Driving Championships Grand Champion
A driver from Ohio repeated as the Bendix Grand Champion of the 2019 National Truck Driving Championships in August. Scott Woodrome, a 56-year-old driver from Middletown, Ohio representing team FedEx Freight, won the title at the American Trucking Associations' competition held in Pittsburgh. It was Woodrome's second consecutive year of winning the Bendix Grand Champion trophy. A total of 427 drivers competed in the contest.
Landstar driver 2020 Kenworth T680 winner
Landstar System owner-operator Cecilia Logan won a 2020 Kenworth T680 courtesy of the Landstar All-Star Truck Giveaway. Logan was selected as the winner through a random drawing conducted during the annual Landstar BCO (Business Capacity Owner) All-Star Celebration held in Savannah, Georgia, July 1-3.
CVSA International Driver Excellence Award
Werner Enterprises driver Timothy Dean is the Commercial Vehicle Safety Alliance's 2019 International Driver Excellence Award winner. The award recognizes drivers with exceptional careers and dedication to safety. CVSA will present Dean with the award at the CVSA Workshop in St. Louis, Missouri, April 1.
A company driver from Phoenix, Arizona is this year's Goodyear Highway Hero. Paul Mathias, a Navy veteran who drives for System Transport was honored in March in ceremonies at the Crown Plaza Hotel in Louisville, Kentucky during the Mid-America Trucking Show. He received a cash award, a trophy, and a ring.
A New Hampshire company driver in March was named the Highway Angel of the Year at the Truckload Carriers Association's annual convention at the Wynn Resort in Las Vegas. Brian Snell, a Marine veteran who drives for Pottle's Transportation of Bangor, Maine was recognized for his actions at the scene of an accident in the early morning hours of June 8 last year. He was presented with his award by EpicVue CEO Lance Platt and TCA's Highway Angel spokesperson Lindsay Lawler.
TA Petro Citizen Driver Awards
During the Mid-America Trucking Show in March, TA Petro recognized three drivers with its annual Citizen Driver Awards. Honored were Steen Gronlund, a company driver for Mile Hi Foods, and Kenn and Elizabeth Zelten, owner-operators leased to Landstar.
A company driver from Griswold, Iowa was named driver of the year by the Nebraska Trucking Association. Tim Dean drives in the van network team for Werner Enterprises, which is based in Omaha, Nebraska.
South Dakota Driver of the Year
The South Dakota Trucking Association has chosen YRC Freight driver Wade Wagemann as its 2019 South Dakota Driver of the Year. Wagemann has been in the trucking industry for 27 years, with 16 of those spent at YRC Freight. He has driven 2.3 million accident-free miles.
___
David Hollis is the editor of Truckers News. Contact him at davidhollis@randallreilly.com