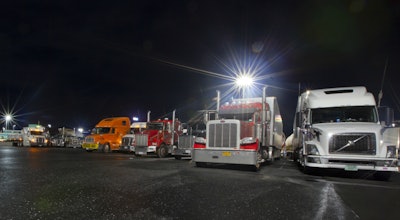 The trucking industry's response to the Federal Motor Carrier Safety Administration's announcement Wednesday of changes to federal hours of service regulations has been largely positive.
Not so much for many individual drivers.
Leaders of three major trucking associations praised federal officials and the proposed changes to existing hours of service regulations. However, the Teamsters had a different view.
"Truckers have families and want to get home safely just like everyone else," said Todd Spencer, president of Owner Operators Independent Drivers Association. "They are the most knowledgeable, highway safety advocates and the agency's proposal, overall, recognizes that fact. We have pushed for flexibility in hours of service regulations for years, long before the current Administration. We thank Administrator Ray Martinez for his commitment to the issue and for listening to those that actually drive trucks for a living."
The industry's largest trade association had similar praise and called for data to be used to craft a final rule.
"(Transportation) Secretary (Elaine) Chao and (FMCSA) Administrator Martinez are to be commended for their commitment to an open and data-driven process to update the hours of service rules," said American Trucking Associations President and CEO Chris Spear. "We look forward to studying and understanding how these proposed changes will impact our industry so we can provide relevant data and information to strengthen and support a good final rule that bolsters safety and provides drivers needed flexibility. ATA intends to fully review these proposed changes so we can shape a strong rule for our drivers, our industry and the motoring public."
In a statement on its website, the Truckload Carriers Association likewise praised Chao and Martinez "for their efforts to understand the legitimate concerns of the industry and work with all stakeholders to enact policy reflecting the true conditions on our nation's highways." TCA also encouraged its members and others to offer comments to FMCSA "particularly using data from electronic logging devices."
TCA President John Lyboldt said, "We applaud the agency's efforts to create safety-first, data-driven regulations. The initiative to reduce roadway fatalities represents an industry lift for which TCA is committed to uniting with our federal agency partners."
The Teamsters union had a much different take on the relaxed regulations.
"In an effort to increase so-called 'flexibility' for trucking companies, the FMCSA is abandoning safety and allowing drivers to push themselves to the limit even further," said Teamsters General President Jim Hoffa. "Changes for short-haul truckers, for example, would extend their days from 12 to 14 hours on the job. That means a longer and more exhausting workday for tens of thousands of American workers."
The men and women who must live with hours of service regulations on a daily, personalized basis, individual truckers, also had their say. Here's a sampling of comments from the Truckers News Facebook page.
Joseph King:
And how is this any better?? So now we can split the 10 into 7/3 instead of 8/2…

🤔

🤦🏻‍♂️

, still have to take a 30 minute break and the only part that makes any sense is now we can stop our 14 for a nap or whatever.
Walter Denney:
Pointless!!
Jay Sands:
I have been driving for over 21 years now and everything that the government has done to the regs has never been good for the interest of the driver's… Always out to screw the drivers…
Steve Anderson:
Just do away with the 30 min break altogether and the 14 hr clock. 11 hrs driving flat with a 10 hr break to reset clock. Keep the 70… Nuff said
Maura Michaelson-Miller:
Yup, now you can work harder, not smarter!!!
Mark Miles:
12 hours driving split up anyway the driver needs to, 8 hours off duty or sleeper or split between the two and get the next 12 hour driving. On-duty not driving does not count against the 12. No 70-hour BS. No 30 minute break BS. But that is far too simple for the FMCSA morons and too much work for the steering wheel holders.
Nancy Dahling:
Doesn't do anything for teams.
Lou Snoubar:
Impressed…So they did very hard thinking And they did a lots of studies and they come up with this solution.
Charles Jenkins:
This change is useless the clock still runs and you screw yourself out of more time.
Richard Miller, who identifies himself as a former over-the-road driver: This will be more like the old school. There will be flexibility for the driver. Should be safer. No pushing tthrough when fatigued. They never should have changed it from the old 10/8. I never needed 10 hours off continuously. When the changed it, I got bored. I would wake up after 6-8 hours have breakfast and take off. Just cruise down the road, Stopped when I wanted. Park about 2200 hours. Have some coffee, BS a while to unwind. Sleep till my body said get up. Easy running. 6-700 miles a day if I wished. But I ran hard when called for and ran easy when I had the time. I was in control of my day. Not a computer.
Truckers and others will have the opportunity to learn more about the proposed hours of service rule changes and other regulatory issues at the Great American Trucking Show in Dallas next week. Martinez and others from the agency will be on hand for two Hot Topics sessions on the stage in Hall "A". There is a session at 3 p.m. Thursday, Aug. 22 and another at 1 p.m. Saturday, Aug. 24. You can register for free admission to GATS online.
You can see the Federal Register Notice, including how to submit comments here.