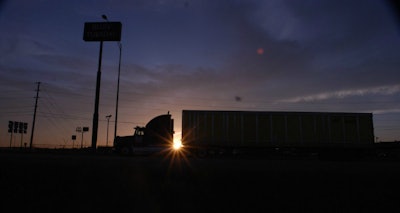 Truckers and others in the trucking industry have 45 days — until Oct. 7 — to file formal feedback for the U.S. DOT to consider when crafting a rule to overhaul federal hours of service regulations.
Comments can be filed at the regulations.gov rulemaking portal.
The Federal Motor Carrier Safety Administration last week announced a notice of proposed rulemaking that included proposed changes to federal hours of service regulations. That NPRM was published in the Federal Register on today, Aug. 22, which opened the public comment period.
Proposed changes include allowing drivers to pause their 14-hour on-duty clock for up to three hours and extending the split sleeper berth options for drivers to include splits of seven hours and three hours.
The agency also proposed more flexible limits around the 30-minute break requirement and allowing drivers to extend their 14-hour on-duty window due if the face adverse conditions like weather or traffic congestion. Lastly, FMCSA proposed expanding the short-haul exemption that could allow more short-haul drivers to skip keeping records of duty status.
FMCSA Administrator Ray Martinez will hold a listening session at the Great American Trucking Show in Dallas at 10 a.m. Friday, Aug. 23, in the lower "C" meeting rooms, room number C146.