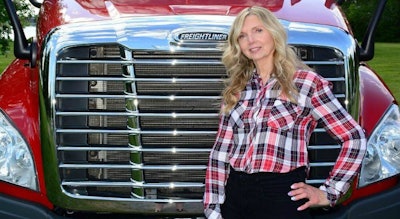 The Women In Trucking Association and Walmart announced today three finalists for the 2020 Female Driver of the Year award. The inaugural award recognizes "outstanding female professional drivers who lead the industry in safety while actively enhancing the public image of the trucking industry," according to a statement from WIT.
The three finalists are:
Carmen Anderson, a company driver at America's Service Line, LLC, has 2.5 million safe-driving miles. In August 2019, she was named the Wisconsin Motor Carriers Association Driver of the Month. She also won the WMCA 2019 Driver of the Year. She was appointed to the WIT Image Team in 2019, is a lifetime member of WIT, and is a member of Owner-Operator Independent Drivers Association. She also serves on the organizing committee for the South Dakota Special Olympics. In 2017, she was selected for the Wisconsin Road Team. In 2015, Anderson won the South Dakota Truck Driving championship and went on to compete in nationals in St Louis. She is trained to recognize and prevent human trafficking through her involvement with Truckers Against Trafficking and has appeared on TV news to speak on the topic.
Susie De Ridder, a company driver at Armour, has been driving for 40 years and has driven over 4 million accident-free miles. A former board member for Women in Trucking Federation of Canada, she was named to WIT's Image Team in 2018. Since then, she has appeared in trucking magazines in USA and Canada, providing exposure for the career opportunities open to women in the trucking industry. As a mentor, she regularly attends Girl Gala events at high schools and community colleges. She participates in the Convoy for Hope Atlantic, raising funds for cancer research and awareness. In 2019, she won first place for the best-dressed driver, best-decorated truck and raising the most funds in the convoy's 10-year history. In honor of her fundraising efforts, she led the Convoy of 35 trucks, the first time ever for a female driver.
Sarah Fiske has been a company driver with FedEx Freight for 14 years and has more than 1.17 million accident-free miles in her 20 years of driving. She feels her biggest impact is her involvement with Trucker Buddy. She has had the privilege of being a "buddy" to her hometown school for the past 16 years. Fiske has also participated in Trees for Troops, delivering more than 240,000 Christmas trees to military families over the past 15 years. For the past two years, Fiske has been traveling the country as a FedEx Freight Road Team Captain, promoting highway safety. Around the holidays, she enjoys playing the part of Mrs. Clause, while her husband is Santa. For seven years they have been spreading cheer at schools, nursing homes and throughout the community. They also participate in the U.S. Marines Toys for Tots program and the Dream Big Foundation to bring toys to local children.
The judging panel included Lori Furnell, director of talent acquisition, Walmart Supply Chain; Jeana Hysell, senior safety consultant, J. J. Keller & Associates, Inc.; Tim Ridley, talk radio host; Ellen Voie, WIT president and CEO.
The winner will be chosen based on her safety record, positive community contributions, and impact on the public image of the trucking industry. She will be awarded a plaque and commemorative ring.