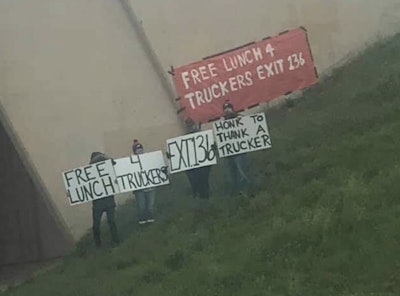 Depending on your outlook, the U.S. trucking industry is now in the midst of adjusting to a new normal, or this is just the latest bump in the road — albeit a massive one — it has to negotiate.
To date, there have been some 42,000 COVID-19 coronavirus cases confirmed in the U.S. and 485 deaths but trucking rolls on as an essential service in these difficult times.
There has been some disruption of freight volumes. Many individual truckers have found their lives on the road disrupted by food service at truck stops becoming take-out only, and finding some shippers and receivers eliminating access to restrooms. But, drivers have also found traffic reduced as more as more Americans are forced to work from home.
Random acts of trucker kindness blossom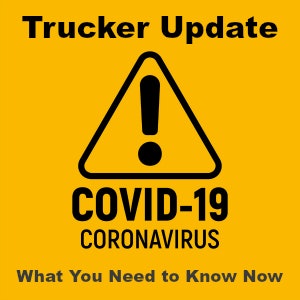 Amid the growing angst and anger that persists as the COVID-19 coronavirus overspreads the U.S. are bright spots, examples of people stepping up to help and show their appreciation of truck drivers. Most are small and personal and help one trucker at a time, but they are needed and appreciated.
One such act was undertaken by three girls who spent part of their Saturday handing out sack lunches to truckers at a rest area on Interstate 80 in Wilton, Iowa. A 13-year-old and her two cousins handed out bags containing water, sandwiches, chips, and pudding to truckers at the rest area in Wilton, Iowa.
Another showed a black pickup truck parked alongside I-530 in Arkansas with a hand-lettered sign that offered some hospitality for road-weary drivers. It said, "Truckers only. Free food and coffee. This exit. Follow sign."
That sign led them to members of the Quail Creek Fire Department, who were feeding truckers in need of a hot meal. Chief James Church said, "I got tired of seeing truckers struggling to find a hot meal so we put this together in a matter of hours."
Over this past weekend, the firemen served some 20 truckers.
Jeremy Hill Sr. posted this to his Facebook page recently: "This sweet lady did something very nice for me this morning. I didn't grab anything from the house for my lunch so I stopped at the McDonald's in Taft. Doors are locked and this McDonald's worker that was on her break says to me, "I'm sorry Sir but we are only open for drive-through." I said, "Well that sucks, I'm driving a big rig." As I turn away and started back towards my truck she says, "Sir, I'll go inside and get you something, what would you like?" She used her break to meet my needs and I think that she deserves some appreciation, because I sure do appreciate what she did for me. Us truck drivers are running and doing our best to get product back into the stores to fill the shelves as quick as we can. She showed a little human kindness. A lesson that I think we all can learn from."
Free food in Iowa Tuesday & Wednesday
If you're hauling through Iowa Tuesday and Wednesday, March 24 and 25, you'll want to stop at a scale house for a change.
The Iowa Motor Truck Association says, "To show appreciation and gratitude for the trucking industry, while also providing business to local restaurants, the IMTA in collaboration with Governor Kim Reynolds' office and the Iowa Department of Transportation, will be handing out complimentary boxed lunches to truck drivers on Tuesday and Wednesday of this week."
On Tuesday, they will be at the Jasper County Scale, I-80 westbound east of Mitchelville near mile marker 150 from 10 a.m. to 2 p.m.
On Wednesday, they'll set up at the Dallas County Scale, I-80 eastbound east of Van Meter, near mile marker 115 from 10 a.m. to 2 p.m.
IMTA is quick to remind truckers," The scales will be open specifically for lunch distribution only, there will be no enforcement activities."
Survey: Freight spikes for some; unchanged for many carriers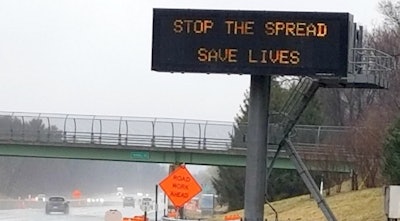 Though the outlook for the economy and trucking is somewhat dismal, many fleets for now are busy trying to manage a surge in load demand from grocers and retailers looking to restock empty shelves in the wake of panic buying of late by consumers.
Of the more than 300 respondents to a poll conducted last week by our sister publication Commercial Carrier Journal, nearly 13% of carriers said business has spiked in recent days due to retail replenishment. Another 33%, said business hasn't changed and that they're still running the same number of loads.
However, nearly half of respondents reported either a slight slowdown (27%) or a sharp decline (20%) in freight demand.
See the complete CCJ story here.
Mack & Volvo suspend production through March 27
Mack Trucks and Volvo Trucks North America are the latest companies to join a growing list of truck and auto manufacturers to shutter assembly operations due to the COVID-19 coronavirus outbreak.
Mary Beth Halprin, Volvo Group vice president of public relations and corporate affairs, last week said that, while the company has no reason to believe there are any cases of COVID-19 in any of the Mack, Volvo Trucks or Volvo Group powertrain manufacturing facilities in Macungie, Pennsylvania; Dublin, Virginia or Hagerstown, Maryland, "we have decided to temporarily suspend production as part of the effort to slow the spread of the virus in our communities."
Mack and Volvo Trucks suspended production through Friday, March 27. Moving forward, Halprin said the company would monitor the outbreak and communicate additional decisions to employees on a regular basis.
___
David Hollis is the editor of Truckers News and She Drives and is working on a story about how truckers are dealing with life on the road in these days of the COVID-19 coronavirus outbreak. Specifically, what tips do you have for fellow drivers about coping with the even greater social isolation. Hollis may be reached at [email protected]