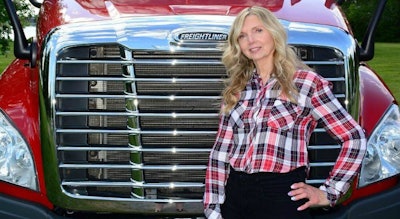 A company driver from Canada is the winner of the first Female Driver of the Year award.
The Women In Trucking Association and Walmart announced recently that Susie De Ridder, who drives for Armour Transportation Systems in New Brunswick, Canada as the winner. She was one of three finalists for the award. The others were Carmen Anderson, a company driver at America's Service Line, LLC and Sarah Fiske, a company driver at FedEx Freight.
De Ridder has been driving for 40 years and has logged some 4 million accident-free miles.
"I am always inspiring and encouraging the next generation to join the trucking industry," said DeRidder. "I promote this in my daily travels with Clare, WIT's trucking doll. She is proudly displayed on my dash and is a great conversation starter to tell others about my awesome trucking career."
DeRidder is a former board member for Women in Trucking Federation of Canada, and was named to the organization's Image Team in 2018. She participates in the Convoy for Hope Atlantic yearly, raising funds for cancer research and awareness. In 2019, she won first place for best-dressed driver, best-decorated truck and raising the most funds in the Convoy's 10-year history. In honor of her fundraising efforts, she led the convoy of 35 trucks, the first time ever for a female driver.
"Susie De Ridder has been a visible advocate for women in the trucking industry and we are so proud to honor her with the first-ever Female Driver of the Year award," said Ellen Voie, president and CEO of WIT. "Her safety standards and community involvement enhance a positive public image of the trucking industry."
Sponsored by Walmart, the award was established to promote the achievements of female professional drivers who lead the industry in safety standards while actively enhancing the public image of the trucking industry.
"Walmart is honored to partner with Women In Trucking to recognize an outstanding female driver making a positive impact in the transportation industry," said Bryan Most, vice president of transportation for Walmart and WIT board member. "During times like these we really see how important truck drivers are and we congratulate Susie and each of the finalists of the Female Driver of the Year award for their examples of safety and service to our industry."
Members of the judging panel were: Lori Furnell, director of talent acquisition, Walmart Supply Chain; Jeana Hysell, senior safety consultant, J. J. Keller & Associates, Inc.; Tim Ridley, talk radio host; Ellen Voie, WIT president and CEO.