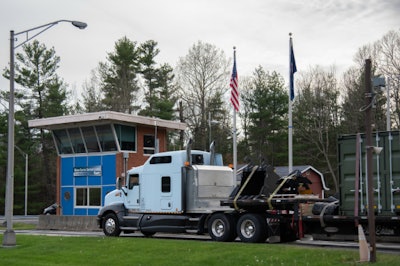 On April 3, the Federal Highway Administration issued a notice that allows states to have privately-owned food trucks to set up in rest areas along interstate highways, a practice normally not allowed by federal law. The exception ends when the national emergency declaration ends.
The goal was to increase the opportunities for truckers to get a hot meal. Food trucks have already been showing up at rest areas in several states.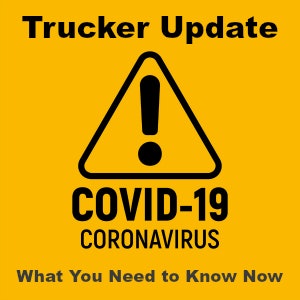 NATSO, the national organization representing truck stops and travel centers, and other organizations oppose letting food trucks operate in rest areas. NATSO says the trucks will hurt already-struggling local restaurants where truckers could eat.
"Although some state rest areas have closed during the pandemic, private truckstops and travel plazas remain open and are committed to serving truck drivers," said Lisa Mullings, President and CEO of NATSO in a statement. "If there are places where truck drivers are finding it difficult to find something to eat, we don't oppose food trucks at rest areas. This is a national emergency, and we need to explore unconventional solutions. But if food trucks at a rest area hurt local businesses that are already struggling to remain open, professional drivers ultimately will have even more difficulty finding places to eat. They will have fewer food choices if these businesses close, and they will struggle to find showers and parking, too."
Vintage truck show moves online
Yet another major truck gathering has had to drastically change its plans as the COVID-19 coronavirus epidemic continues to spread.
The American Truck Historical Society Thursday, April 9, announced to its members that this year's national convention and truck show would not be held at the Illinois State Fairgrounds in Springfield May 28-30 as planned. Instead, it will join the growing number of events, concerts, and meetings held on the internet.
In a post on the organization's website, ATHS Executive Director Laurence Gration said:
"The ATHS Board regrets they will not be able to meet you and shake your hand in Springfield, Illinois, in May, but for the health and safety of all involved, it is simply safer to not meet face-to-face this year. Instead, the 2020 National Convention and Truck Show will be produced and presented ONLINE.
"No matter where in the world you're located, no matter your travel restrictions; we're bringing our show to YOU. All you need is internet access and an interest in old trucks. Fantastic convention speakers, the excitement of the awards ceremony, informative meetings and breakout sessions, and of course, the best darn antique truck show in the world! It will all be just a click away."
Gration reminded members the 2021 convention and show is to be held in Harrisonburg, Virginia.
Virginia turns weigh stations into truck parking
The Virginia Department of Motor Vehicles today, April 9, announced it is temporarily closing all weigh stations to normal traffic so they can be used for truck parking. The closings are until at least April 23 for the 10 weigh stations, which will create 246 truck parking spaces.
Weigh stations that are currently open as rest areas for commercial drivers include:
Alberta (I-81, mile marker 22)
Bland (I-77, mile marker 52)
Carson (I-95, mile marker 39)
Dumfries (I-95, mile marker 154)
Middletown (Rt. 11, across from the I-81 weigh station)
New Church (Rt. 13, 2 miles south of the Maryland state line)
Sandston (I-64, mile marker 203)
Stephen City (I-81, mile marker 304)
Suffolk (Rt. 58, 1 mile west of the Chesapeake city line)
Troutville (I-81, mile marker 149)
The spaces are available 24 hours a day, seven days a week, until at least April 23, according to the DMV. To make truckers aware of the service, the Virginia Department of Transportation will place portable changeable message signs advertising the availability of truck parking.
"The trucking industry is a vital link in our country's supply chain," said Secretary of Transportation Shannon Valentine. "During these unprecedented times, we are especially grateful to these men and women serving on the front lines, and we are proud to help in any way we can."
Senator suggests truckers get $25,000 'hero' pay
Senate Democratic Leader Chuck Schumer (D-NY) wants truck drivers and other frontline workers to receive $25,000 in what he is calling "heroes pay" for their roles in the COVID-10 coronavirus outbreak. His request comes as Congress tackles a second COVID-19 economic rescue package.
Schumer reportedly declared the proposal the "highest priority," according to a report by the Associated Press.
In addition to truckers, Schumer's proposal would grant nurses, grocery store clerks and others he said are essential to keeping Americans safe.
It's unclear if Schumer's proposal would find support from President Trump or Republicans in Congress.
Oddly, truckers often have not been fans of Schumer. He has advanced numerous safety issues unpopular with the trucking industry and recently was one of several senators from the Northeast demanding improved GPS data in the wake of trucks hitting bridges on parkways.
Roadmaster gives drivers 'appreciation pay'
One member of the U.S. trucking industry is stepping up to pay truckers extra as they keep driving through the deepening COVID-19 coronavirus outbreak.
The Roadmaster Group, which is headquartered in Phoenix, announced today it's paying its company drivers and owner-operators what it's calling "special temporary COVID-19 relief appreciation pay."
According to information from the company:
most company OTR/regional/team/solo drivers will receive a 5 cents per mile boost
drivers on standard local pay plans will receive an additional $20 per day
owner-operators will receive an additional 2% on standard contract revenue share
In a video shared with employees and others, Roadmaster Group CEO John Wilbur called the added pay "a small way to say thank you for all you do." He said drivers will receive the additional pay for the month of April, but added it "may be extended a month or two" depending on how COVID-19 conditions change.
"We want to get some extra money in your hands at this time," he said.
Wilbur also praised Roadmaster Group's and other drivers, calling them true first responders for their willingness to drive into hot spots like New York and New Jersey "to serve the country." He added that while some aspects of the country are expected to be changed by the COVID-19, what won't change is its reliance on trucks to move the goods it needs.
The Roadmaster Group includes Tri-State, Roadmaster Specialized and AATCO, and delivers specialized high-security cargo. It's part of the Daseke Group.