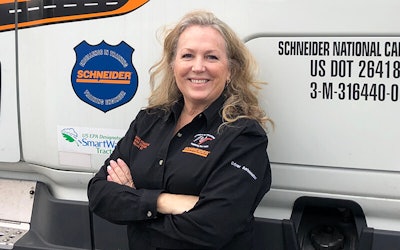 It was not her college degree in interior design that prepared Kellylynn McLaughlin for her current job as an over-the-road driver and training engineer for Schneider. Neither was it her time in the Peace Corps or work with an international development organization.
Instead, McLaughlin said it was being the mom of children in their high school's marching band that led her get her CDL and take to the road as a professional driver. She said she was a volunteer logistics coordinator for the band, which used a tractor-trailer to transport the band's gear to its performances, and she went along for the ride.
"The first time I rode in it I was smitten," said McLaughlin, who is likewise enthusiastic about her career with Schneider. "I love it. It's one of the best things to happen in my life since my children were born."
And, now, McLaughlin has the opportunity to tell the world about her love of trucking and the opportunity the profession affords other women.
Earlier this year McLaughlin was named the first Driver Ambassador for Women In Trucking. As such, she'll appear at events, talk to the media, and meet with other women truckers or those who are considering it as a career.
Listen to McLaughlin explain her enthusiasm for trucking, the challenge of life on the road in these days of the COVID-19 coronavirus, and why driving is a good career choice for women.