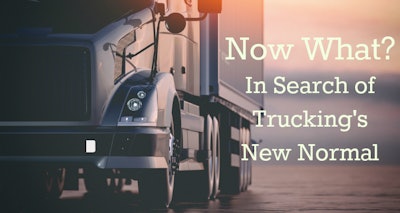 On Jan. 19, a 35-year-old man walked into an urgent care facility in Snohomish County, Washington complaining of having a cough and fever for the past four days. He was diagnosed with the first case of the COVID-19 coronavirus in the U.S.
Since then, the U.S. has seen an explosion of the virus: 3.8 million infections and over 140,000 deaths. Reaction to COVID-19 early on was to shut things down, restrict just about every aspect of life, and slam the brakes on the economy.
But, through it all, the trucking industry has picked up and delivered freight. It's not always been easy but it has gotten done. Parts of the U.S. have seen significant increases in the number of cases, but trucks keep rolling.
Now What: In Search of Trucking's New Normal takes a deep dive into how the industry has done and where it's headed.
In this episode of the podcast we speak with Dave Heller, he's the vice president for government affairs at the Truckload Carriers Association. He's responsible for communicating and interpreting all trucking-related regulations – safety, legislative, and others– to the membership of TCA and congressional representatives on Capitol Hill. Heller is one of the few trucking association executives who has earned his certification from the North American Transportation Management Institute as a certified director of safety.