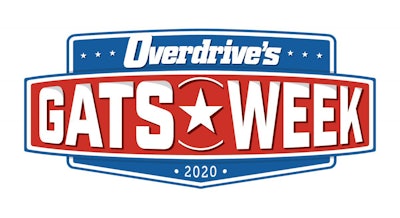 Overdrive, whose owner Randall-Reilly also produces the Great American Trucking Show, will hold online versions of certain programs that were planned for the annual Dallas show.
Overdrive's GATS Week will feature events during the same week the show was scheduled before being canceled due to COVID-19 coronavirus concerns. The virtual events will be available via Facebook Live Monday-Friday, Aug. 24-28, beginning at 8 p.m. EST each evening.
Access instructions will be available on Overdrive and in daily newsletters and social media channels of Overdrive and Truckers News.
AUG. 24: OVERDRIVE'S PARTNERS IN BUSINESS. Catch up on the latest financial benchmarks with this webinar from ATBS, the nation's largest owner-operator financial services firm. ATBS will cover second-quarter earnings, miles and other metrics, present forecasts, and answer listener questions. Partners in Business is sponsored by TBS Factoring Service.
AUG. 25: OVERDRIVE'S PARTNERS IN BUSINESS. Kevin Rutherford and Gary Buchs will discuss owner-operator trends and best practices while answering listener questions. Rutherford is a former small-fleet owner and trucking accountant, now better known as the host of satellite radio's "Trucking Business & Beyond" and the head of LetsTruck.com. Buchs, named 2016 Owner-Operator of the Year, is now an owner-operator business consultant.
AUG. 26: HOURS OF SERVICE. Joe DeLorenzo, director of enforcement and compliance for the Federal Motor Carrier Safety Administration, will give an update on the new rule that takes effect Sept. 29. Following his presentation, he'll answer listener questions.
AUG. 27: OVERDRIVE'S 2020 SMALL FLEET CHAMP. This new contest will culminate with a panel of the three finalists discussing brokers and other topics of concern to small fleets, followed by a question and answer session with listeners. The winner, announced after the panel discussion, will receive an oversized championship belt and will be featured in Overdrive and Commercial Carrier Journal. The Small Fleet Champ program is sponsored by Pilot Company's One9 Fuel Network.
AUG. 28: OVERDRIVE-RED EYE RADIO TRUCKER TALENT SEARCH. Three finalists will perform a song to compete for the title. The winner will be featured in Overdrive and will receive a day's recording session in Nashville, Tennessee.
AUG. 28: OVERDRIVE'S PRIDE & POLISH. Following readers' online voting on photo entries of customized trucks submitted this summer, winners will be announced in seven categories. The program will begin at 8:30 EST, following the Trucker Talent Search.