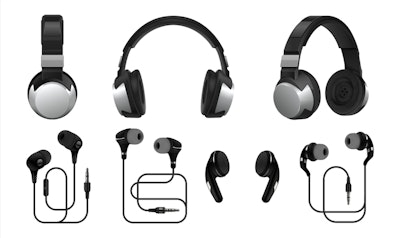 When it comes to listening to audio, be it your favorite playlist, a podcast you enjoy, talk radio or a video you stream after driving all day, truckers have a wide selection of ways to listen.
There are two broad categories: wired and wireless. And, within the wireless group, you can listen with headphones that fit over your head, on your ears or earbuds that fit snugly in your ears.
In most instances, and unless you're a hardcore audiophile, most options will provide sound you can enjoy. Which you choose is largely a matter of personal preference.
In the wired/wireless argument, here are the reasons to stay wired:
no batteries or charging
wired headphones are said to deliver better sound quality because they carry an analog signal and hence more data
generally less expensive
And the primary reason against wired headphones is the wire. Cords can be inconvenient and get in the way even if you're just lounging in your sleeper's bunk.
Those who favor wireless headphones say:
they're now compatible with most devices as Bluetooth is pretty much ubiquitous
they give you freedom of movement, be it rolling over or sitting up on your bunk, or walking around
they let you connect to online assistants like Siri or Google Assistant
The knocks on wireless headphones are that they can be more expensive than their wired cousins, and they need to be charged and recharged.
Now, how does the on-ear vs. over-ear vs. in-ear discussion shakeout? Pretty simply actually.
On-ear and over-ear-headphones are similar in almost all respects except size. As the name suggests, on-ears rest on the ear while over-ears cover the ears and create a seal against the side of your head. This delivers the audio you want and blocks out background noise. However, over-ear headphones are bigger, generally heavier and can be a bit less comfortable to wear for extended periods of time.
In-ear headphones have become a popular choice in recent years and for several reasons. They're small and portable. Apple devices now come with them as standard equipment. They're lightweight and comfortable to wear for most folks. And, because they fit snugly in the ears, they block out background noise and deliver good sound.
For the trucker shopping for a good way to consume audio the market is wide and deep. You'll have lots of choices and a wide price range. Skullcandy makes a wide range of earphones — both wired and wireless — and earbuds. All are engineered to provide high-quality sound, and most are meant for an active, mobile lifestyle. Most are more than affordable.
One of the standout earbud products from Skullcandy is the Sesh. These wireless earbuds feature:
10 hours of battery life between charges
easy to use microphone
one-touch call, track and volume controls
IP55 dust, sweat, moisture resistance
handy charging case
Bluetooth 5.0 connectivity
Likewise, MobileSpec, one of the members of the RoadPro Family of Brands, also offers a wide selection of audio products. It's selection includes:
several styles of stereo in-ear headphones with in-line microphones in a variety of colors
wireless earbuds with clips that go over the ears to help secure them in place
stereo wireless headphones that rest on the neck and feature earbuds that can be inserted
wireless, folding, on-ear headphones with a built-in microphone
a mono in-ear headset that can pair with a camera