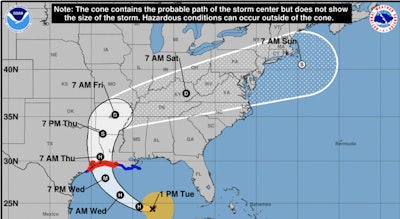 The Federal Motor Carrier Safety Administration's Southern and Western Service Centers Monday, Aug. 24, issued an emergency declaration for four Gulf Coast states in response to Tropical Storm Marco and Hurricane Laura.
The declaration is in effect for Texas, Louisiana, Mississippi, and Alabama for the duration of the emergency or through Sept. 23, whichever is less.
The declaration suspends hours of service regulations for trucks providing direct assistance supporting emergency relief efforts transporting supplies, goods, equipment, and fuel into the affected states, or providing other assistance in the form of emergency services during the emergency.
The National Hurricane Center Tuesday morning estimates Laura will become a Category 3 "major" hurricane before landfall, with winds of around 115 mph. It is expected to strike the Gulf Coast late Wednesday, Aug. 26, and early Thursday, Aug. 27.
According to the Hurricane Center, Marco has been downgraded to a post-tropical cyclone, and it is not expected to make landfall along the Louisiana coast as previously expected.