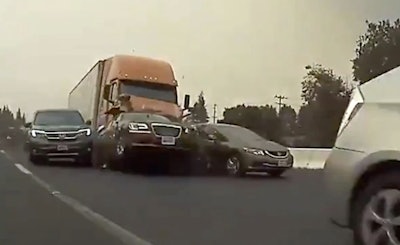 How many videos have you seen posted on social media that start with, "You're not going to believe this …"? Lots, right?
But, you REALLY won't belive this tractor-trailer crash that occurred Sept. 8 on Interstate 5 near Sacramento, California. One motorist died in the series of collisions that involved the truck and 11 cars.
The truck driver was not identified and authorities have not suggested a cause.
New video shows how a deadly crash on Interstate 5 in south Sacramento unfolded Tuesday. (Warning: This may be difficult content for some to watch.) https://t.co/2LOaE83P66 pic.twitter.com/8rxw6yxIUH

— kcranews (@kcranews) September 9, 2020