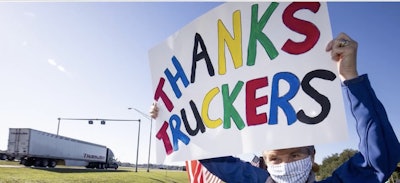 While some of the celebrations and recognitions may happen online instead of in person, 2020's National Trucker Driver Appreciation Week will be loaded with activities, recognitions, and plenty of free food and prizes for truckers.
Appreciation Week festivities began Sunday, Sept. 13, and roll on through Saturday, Sept. 19. We've gathered a handful of the events taking place and will post many more as the week progresses, so be sure to check back daily.
NASCAR driver shows appreciation for truckers lap after lap
StarCom Racing and NASCAR Cup Series rookie driver Quin Houff's No. 00 Camero had a Trucker Appreciation theme for the race at Richmond Raceway Saturday, Sept. 12.
The hood of the No. 00 car was emblazoned with the familiar slogan, "If you bought it, a trucker brought it." Houff said his family has long been part of the trucking industry in Virginia.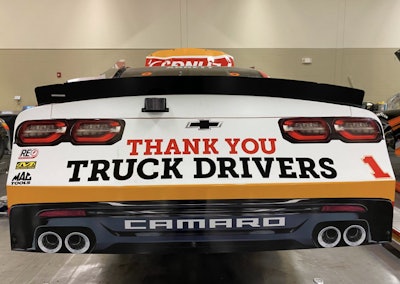 "We applaud StarCom Racing and driver Quin Houff for the special "Thank You Truckers" paint scheme they are running in the Federated Auto Parts 400 this weekend at Richmond Raceway," said Dale Bennett, president and CEO of the Virginia Trucking Association. "As part of one of Virginia's oldest trucking families, Quin understands how hard our professional truck drivers have worked on the front line to keep Virginia and the nation supplied with the goods we need during the COVID-19 pandemic."
Another racer in Saturday's race was also showing their support of truckers. Michael Annet's No. 1 Camero also offers thanks to truckers. He's sponsored by Pilot/Flying J.
Averitt Express has numerous activities planned; created video salute
As part of continuing efforts to show appreciation for all employees, Cookeville, Tennessee carrier Averitt Express will celebrate Driver Appreciation Week with numerous events throughout its network.
Activities include giveaways, free meals, and daily prize drawings for CB radios, wireless headsets, GPS units, gift cards, televisions, tablets, iPads, and more. For the grand prize, five over-the-road drivers will have their names drawn to be assigned a brand-new Freightliner truck.
"This year has presented very unique challenges, and I'm incredibly proud of how our team has reacted, adapted and persevered," said Gary Sasser, Averitt's chairman and chief executive officer. "Because of the efforts of our entire team, we're well-positioned for success, and Driver Appreciation Week is a great opportunity to reaffirm how thankful we are for our associates."
Sasser adds that Driver Appreciation Week is just part of how the Averitt team shows appreciation for associates all year long.
"It's our commitment to what we call our 'Winner's Circle' – our philosophy of taking care of our customers and our associates and focusing on the future," Sasser said.
Averitt has also produced a special video recognizing the importance of its associates.
Love's expands Appreciation Week for entire month
Love's Travel Stops & Country Stores celebrates National Truck Driver Appreciation Week throughout the entire month of September.
During the month, My Love Rewards members can take advantage of deals on fresh food, snacks and drinks, and from Sept. 14 through 18, drivers can get up to 5,000 My Love Rewards points (equal to $50) with the purchase of certain products. For the first time, Love's is celebrating with a 4-million-point giveaway. Each week, a different driver will win 1 million My Love Rewards points (equal to $10,000).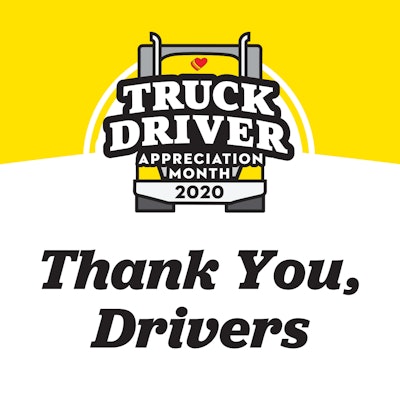 For a full list of promotions, click here. Offers include:
Fresh food, snack and drink deals
From Sept. 14 through 18, drivers can get points back for purchases, ranging from 100 to 5,000 MLR points (equal to $1-$50) on items like Love's branded oil products and GPS systems
Free Love's hat with the purchase of three pairs of gloves for $9.99
Free drink and shower credits with qualifying fuel purchases (year-round)
Drivers enter the weekly $10,000-point giveaway each time they swipe their My Love Rewards card for fuel, truck care or in-store purchases at Love's and Speedco locations.
Drivers can also visit any Love's location with a touch screen and follow the steps on the 4 Million My Love Rewards points giveaway section to enter.
All card swipes and touchscreen entries from the week will count as individual entries to win 1 million My Love Rewards points. Winners will be announced every Friday throughout the month.
U.S. Xpress takes Driver Appreciation activities online
Because of the COVID-19 coronavirus pandemic, this year's Driver Appreciation Week will look a little different for U.S. Xpress. In lieu of parties and cookouts, the Chattanooga, Tennessee-based carrier is going totally virtual in recognizing its more than 6,500 drivers. The week's activities include:
Hourly gift card drawings will be held all week on the drivers' Facebook page during the company will give away nearly $14,000, including four grand prize cash winners who will receive $1,500 each; video shout-outs to drivers from company leadership on social channels; a #USXAppreciatesMe contest with numerous prizes.

On Tuesday, Sept. 15, at 2 p.m. EDT, held a virtual ceremony for the latest group of Million Milers live on our Facebook page. Close to 50 drivers who have hit this driving milestone will be honored.
On Thursday, Sept. 17, country music star Travis Denning will host a live virtual concert dedicated to U.S. Xpress drivers.
All drivers will have a U.S. Xpress cooler backpack sent to their home addresses by week's end.
Shell Rotella has gifts for truckers, announces SuperRigs winners
Shell Rotella celebrates National Truck Driver Appreciation Week with giveaways and promotions as what the company says is" a small act of kindness for drivers' dedication to the industry."
Shell Rotella is giving away thank you packages to truck drivers at participating LubeZone Truck Lube Centers and Pilot Flying J Truck Care Service Centers from Thursday, Sept. 17 through Sunday, Sept. 20, while supplies last. Each package includes items that will be useful for truck drivers' everyday lives on the road which can include to-go coffee mugs, flashlights, and pull-top backpacks.
Truckers can find the participating locations at www.LubeZone.com and Pilot Flying J Truck Care Service Centers at https://pilotflyingj.com/truck-care/.
In addition, a month-long promotion has kicked off at all Love's Travel Stops & Speedco locations. Now through Sept. 30, customers who purchase a Shell Rotella diesel engine oil change with Shell Rotella T4 Triple Protection, Shell Rotella T5 Synthetic Blend, or Shell Rotella T6 Full Synthetic, will receive a free battery test and a $15 Love's Travel Stops & Country Stores gift card. Visit www.rotella.com/HDoffer to learn more.
Continuing the celebration of National Truck Driver Appreciation Week, Shell Rotella will stagger the announcement of the winners from the 2020 virtual Shell Rotella SuperRigs throughout the week on its social media outlets. The schedule of award announcements includes:
Monday, Sept. 14 – Classic
Tuesday, Sept. 15 – Tractor Trailer
Wednesday, Sept. 16 – Tractor
Thursday, Sept. 17 – Hardest Working Trucker
Friday, Sept. 18 – People's Choice and Best of Show
Each 2020 SuperRigs winner will receive MyMilesMatter reward points and a limited-edition Shell Rotella jacket. All of the trucks entered this year can be viewed at www.MyMilesMatter.com/SuperRigs.
RoadPro virtual concert features Trucker Talent Search finalists
RoadPro Family of Brands isn't able to visit local travel centers as they have in years past to thank drivers and hand out prizes, so this year RoadPro is taking it virtual. And, while National Trucker Appreciation Week begins Sept. 13 and concludes on Sept. 19, don't be surprised to see more special events all month long.
On Sept. 16, RoadPro will release a virtual concert on its Facebook page, with a line up of musicians that also happen to be truck drivers. Featured artists include former Overdrive Trucker Talent Search finalists Ken Freeman, Mandi Jo Pinheiro, Taylor Barker, Bill Weaver, and Paul Marhoefer.
A special message from each musician will also be featured during the concert. All week long, special messages from other drivers, and what makes them feel appreciated will be posted. There will also be a special appreciation video specific to the truck drivers that keep America moving every day.
Truckers can also participate in the Brake Time Blitz, an opportunity to join the truck driver community on Brake Time and be entered to win a one of a kind prize pack. Entry into the giveaway begins Monday, Sept. 14, and runs through Saturday, Sept. 19. All current Brake Time members will also receive a surprise gift in the mail to further spread the appreciation.
RoadPro's own Pro Driver Council members will be distributing hats and special PPE kits throughout the month. In addition, RoadPro will support national events with product donations and giveaways conducted by trucking companies such as Swift Transportation, Knight Transportation, Iron Maintenance, Trinity Logistics, and Combined Transport.
For more information on RoadPro's events and the driver-driven Brake Time community, visit www.braketime.com or RoadPro's Facebook page.
Pilot offers specials, produces tribute video for drivers
Pilot Company is turning National Driver Appreciation Week into a month-long celebration with free drinks and food and other specials for professional drivers all of September. In addition, the company released a video featuring singer-songwriter Ray Wylie Hubbard that recognizes professional drivers for their dedication to keeping North America moving.
"Professional drivers deserve our gratitude every day," said Shameek Konar, chief strategy officer of Pilot Company. "The last few months have shown the world how essential these men and women are to our economy and day-to-day life. On behalf of our 28,000 team members, we want to thank all professional drivers for their tireless work to supply goods across North America. To show our appreciation, we invite professional drivers to stop in for a free drink every day in September."
Now through Sept. 30, Pilot Company will have exclusive offers for professional drivers in the Pilot Flying J app, including:
Free drinks every day
Free showers all month with September Shower Power after one 75+ gallon fill
Earn up to four points per gallon when activating Push4Points
Free JPRO diagnostics test at Pilot Flying J Truck Care service centers
To redeem the promotions, professional drivers simply save the offers in the Pilot Flying J app and visit any of the 750 company-operated stores in the U.S., including Pilot and Flying J Travel Centers, Pilot Flying J Truck Care locations, and participating One9 Fuel Network locations.