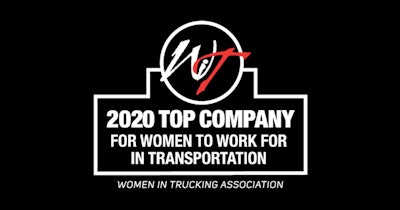 Redefining the Road magazine, the magazine of the Women In Trucking Association recently announced the list of the "Top Companies for Women to Work For in Transportation" for 2020.
There are several key features that distinguish companies recognized on this list, said Brian Everett, publisher of Redefining the Road. They include corporate cultures that foster gender diversity; competitive compensation and benefits; flexible hours and work requirements; professional development opportunities; and career advancement opportunities.
The list is comprised of a diverse range of business sectors in the commercial freight transportation marketplace, including motor carriers, third-party logistics companies, and original equipment manufacturers. These companies will be recognized at the virtual WIT Accelerate! Conference & Expo Nov. 12-13.
Companies on this year's list are:
AGT Global Logistics
American Central Transport
Aria Logistics LLC
Artur Express Inc.
Auction Transport Services
Averitt Express
B. R. Williams Trucking, Inc.
Bennett International Group, LLC
Big M Transportation
Booster Fuel
Boyle Transportation
Brenny Transportation, Inc.
CalArk International, Inc.
Carbon Express Inc.
Cargo Transporters, Inc.
Carter Express, Inc.
Carvana
Centerline Drivers
Certified Express Inc.
CFI – Contract Freighters, Inc.
Clean Harbors
Cumberland International Trucks Inc.
Day & Ross
Dedicated Systems, Inc.
Dot Transportation, Inc.
Dupre' Logistics
Dynacraft, A PACCAR Company
Epes Transport System, LLC
EROAD
Estes Express Lines
FedEx Freight
Fifth Wheel Freight
Frito-Lay
Garner Trucking
Gulf Relay LLC
Herc Rentals, Inc.
J.B. Hunt Transport Services, Inc.
JF Moran
JR Kays Trucking Inc.
JX Enterprises
Kenco
Kenworth
Knichel Logistics
Landstar System, Inc.
Matheson Trucking
May Trucking Company
McLeod Software
Michelin North America
NAPA Transportation, Inc.
National Carriers, Inc.
Navajo Express
NFI Industries
Odyssey Logistics & Technology
Old Dominion Freight Line
Omnitracs, LLC
OTR Capital, LLC
PACCAR
Palmer Trucks
Peach State Truck Centers
Penske Transportation Solutions
Peterbilt Motors Company
PGT Trucking, Inc.
Prime Inc.
ReedTMS Logistics, Inc.
Rihm Family Companies
Riverside Transport, Inc.
Roehl Transport
RPM
Ryder System, Inc.
Schneider
Sunrise Transport Inc.
Sunset Transportation Inc.
Total Transportation of Mississippi
Trailer Transit
Transfix
Transplace
Transport America
Transport Services, Inc.
Trimac Transportation Inc.
Trimble
Tri-National, Inc.
Trinity Logistics, Inc.
Truckstop.com
U.S. Xpress
US AutoLogistics
Volvo Group North America
Wal-Mart Transportation
Waste Management
Werner Enterprises
YRC Worldwide Companies