A truck driver was arrested in San Diego Friday, Oct. 9, when U.S. Customs and Border Protection agents found a huge cache of illegal narcotics stashed in a load of medical supplies.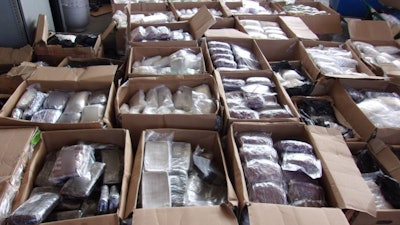 CBP agents seized an estimated $7.2 million in drugs including:
3,014 pounds of methamphetamine
64 pounds of heroin
29 pounds of fentanyl powder
37 pounds of fentanyl pills
A statement from the CBP said the seizure was the "second largest methamphetamine bust along the southwest border in the history of the agency."
The CBP said the tractor-trailer driven by a Mexican citizen arrived at the Otay Mesa commercial facility at about 9:45 a.m. Friday. The shipment was manifested as medical supplies, but the inspecting officer decided to refer the driver, truck, and shipment for further inspection.
CBP officers screened the truck using the port's imaging system and found anomalies with the rear of the trailer, according to the CBP. The truck was sent to the dock and a canine alerted to the boxes inside the trailer. Officers unloaded the shipment and found 1,816 packages among the medical supplies.
The driver, a 47–year-old driver was arrested and turned over to the joint investigative team from U.S. Immigration and Customs Enforcement, Homeland Security Investigations, and the Drug Enforcement Administration. He will face criminal charges, according to the CBP's statement.
Trucker arrested for hauling $500,000 in cocaine
A 25-year-old truck driver from San Diego was arrested Friday, Oct. 2, after police found 20 kilograms of cocaine in the cab of his truck, according to Barstow Police.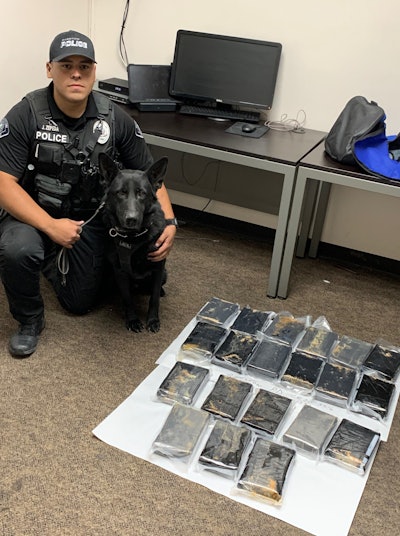 Police say at 6:50 p.m. of Friday, Barstow Police Department K-9 Officer Juan Zepeda conducted a traffic stop of a tractor-trailer for a vehicle code violation at the northbound Interstate 15 off-ramp at Avenue L.
The driver, who police identified as Micael Lange Bolton of San Diego, was said to be acting extremely nervous.
According to a news release from the Barstow Police Department, "while an officer was writing Bolton a citation for the vehicle code violation, Officer Zepeda had his K-9 partner Logan sniff the exterior of Bolton's vehicle. As Logan sniffed the passenger side of the cab he alerted the presence of illegal drugs."
A search of the inside of the truck's cab revealed a duffle bag that contained 20 individual vacuum-sealed packages, which were tested and found to be cocaine with an estimated worth of $500,000.
Bolton was arrested and charged with possession of a controlled substance for sale and transportation of a controlled substance. Bolton was to have been arraigned Tuesday, Oct. 6.