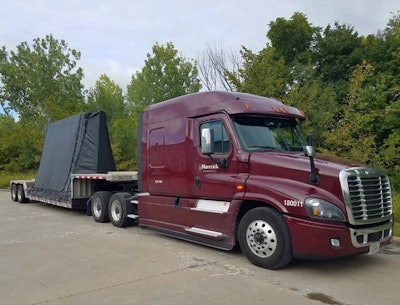 A 450-truck reefer carrier in western Ohio increased driver pay recently. Unlike many in the trucking industry, the raise given by Continental Express Inc. was not strictly in response to the COVID-19 coronavirus pandemic.
Jake Albers, director of operations for CEI, said the company normally reviews compensation annually but increased driver pay early.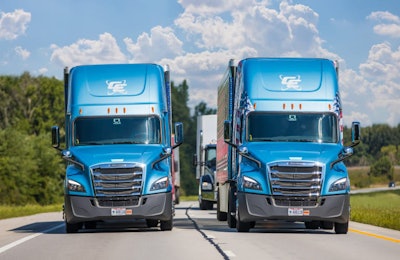 "We review compensation at the first of the year each year but decided we didn't want to wait three more months," said Albers. "We've got to take care of these guys."
CEI, which is located in Sidney, Ohio between Lima and Dayton, increased starting pay by 3 cents per mile — from .47 to .50 — for its over-the-road drivers. It also added two cents per mile for drivers who reach the top of the pay scale after five years.
Albers said the raise is just one of the ways CEI tries to show its appreciation to its drivers for being safe while serving customers. He said the family-owned company wanted to provide "a solid wage for our drivers" while elevating the level of customer service.
"We see ourselves as a driver-friendly company," said Albers. "We want to hear what's on their minds, so we stress communication as well as safety and service."
That extends to driver retention. Albers said CEI's approach to that demanding issue is to take it "one driver at a time because every one of them is an individual."
And, it appears to be paying off.
Albers said CEI has enjoyed one of its stronger years due in part to the fact it hauls food products for many long-term customers.
"It's been a busy year, and we didn't miss a beat," said Albers.
He added that CEI, which serves the 48 contiguous states and the Canadian provinces of Ontario and Quebec, expects to remain especially busy through the first of the year and beyond as it ramps up for the holidays.
The company is also upgrading the technology in its trucks. Albers said CEI is replacing Qualcomm devices with iPads, which will provide drivers with more and better resources, including apps it develops in-house.
Likewise, CEI is investing in its facilities. Albers said the company has a new terminal in Indianapolis.
CEI was founded by Russell Gottemoeller in 1984. He remains the company's president.
Maverick adds, increases bonuses
North Little Rock, Arkansas-based Maverick Transportation today announced new $3,000 and $5,000 sign-on bonuses for experienced glass and flatbed hires and an increase to its internal driver referral bonus program.
Through Dec. 31 drivers with six or more months of recent verifiable flatbed and/or glass OTR experience can earn a sign-on bonus of $3,000 (flatbed) or $5,000 (glass).
Maverick also increased its internal driver referral bonus program. Employees are paid a bonus for referred drivers ranging from $1,000 to $5,000 through the end of the year.
Founded in 1980 and operating over 1,600 units, Maverick provides OTR and dedicated service to the flatbed, glass and specialized markets throughout North America.
To learn more about Maverick Transportation visit www.maverickusa.com.
Search thousands of trucking jobs to find the job you want.
Find Your Next Job Today