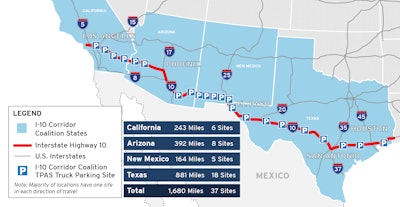 Truck drivers are being asked to provide input on the challenges and issue they face with truck parking along a corridor of I-10 from California to Texas.
The I-10 Corridor Coalition, which is made up of transportation departments in California, Arizona, New Mexico and Texas, has launched a survey for truck drivers that travel in the area.
The input from the survey will help guide the creation of a truck parking availability system that will monitor, collect and communicate real-time information about truck parking availability along I-10 in the four states.
Questions in the survey refer to driving and parking experiences, specifically within the four states. Drivers can take the 27-question survey here.