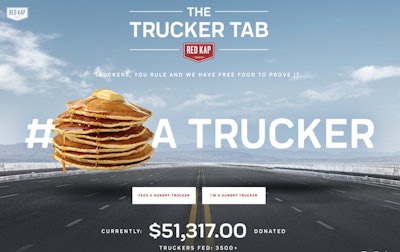 Red Kap, a maker of workwear, is collaborating with Cracker Barrel restaurants to give truckers free meals.
Now through Oct. 25, the Trucker Tab provides a link to receive a $15 gift card good for a meal at one of the 660 Cracker Barrel restaurants in 45 states. Red Kap started the program with a $50,000 donation. Individuals and businesses can add to the tab and build a meal for hungry truckers via an interactive, visual calculator. To redeem free meals, truckers must enter their email address and commercial driver's license online.
Any leftover money will be donated to the St. Christopher's Trucker Relief Fund. In addition, the brand will have a special 20% discount on its premium Trucker Collection which features Airflow Shirts and Pro Pants with MIMIX Technology.
To donate to the Trucker Tab visit TruckerTab.com.