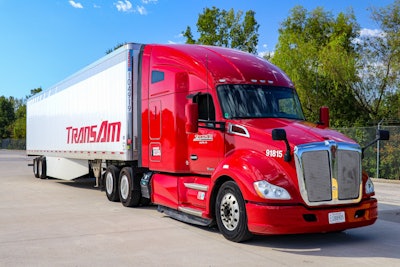 TransAm Trucking, Inc. recently announced a pay increase for their long-haul company drivers and a rate increase for their independent contractors. Long-haul company drivers and independent contractors who have been employed or contracted with TransAm for at least six months received up to a 5 cents per mile increase. Drivers who have not been employed or contracted for at least six months will receive an increase after six months of continuous service.
Along with a pay and rate increase, TransAm Trucking has doubled the sign-on bonus to $5,000 for all driving positions. TransAm Trucking's sign-on bonus pays out in four installments of $1,250 after the completion of 30, 60, 90, and 120 days. Once a driver receives their last installment of their sign-on bonus, TransAm offers a monthly driver retention bonus of $200 for company drivers and $250 for independent contractors.
"We want to show our gratitude to our noble drivers and accelerate our scheduled pay and rate increases for new drivers with TransAm." said Pamela Caraway, Director of Recruiting at TransAm Trucking. "Our drivers have proven that they are essential to our country, and we are proud to work alongside some of the strongest individuals in the industry."
TransAm Trucking, Inc. was founded in 1987 and operates a fleet of over 1,000 tractors and over 1,900 trailers out of its headquarters in Olathe, Kansas. TransAm also maintains a terminal, driver's center and maintenance facility in Rockwall, Texas as well as a maintenance and orientation facility in Tampa, Florida. TransAm Trucking offers over-the-road, regional, dedicated, and local driving positions.