President-elect Joe Biden said Tuesday, Dec. 15, he'll nominate former presidential candidate and mayor of South Bend, Indiana, Pete Buttigieg, to be Secretary of the Department of Transportation.
Buttigieg, who served as the 32nd mayor of South Bend from 2012 to 2020, had also been rumored to be a candidate for U.S. ambassador to the United Nations and commerce secretary. During the presidential primary campaign, Buttigieg narrowly won the Iowa caucuses and finished second in New Hampshire. He dropped out of the race in early March and endorsed Biden.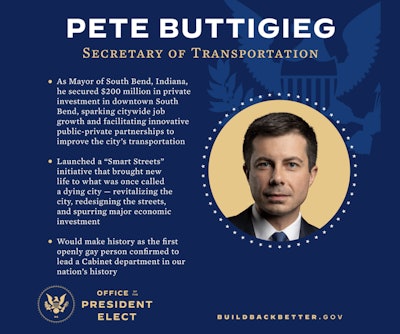 "Jobs, infrastructure, equity, and climate all come together at the DOT, the site of some of our most ambitious plans to build back better," Biden said in his official announcement of Buttigieg's selection. "I trust Mayor Pete to lead this work with focus, decency, and a bold vision — he will bring people together to get big things done."
The Transportation Department has some 55,000 employees, an $87 billion budget and more than a dozen administrations, including the Federal Motor Carrier Safety Administration.
During the campaign, Buttigieg advanced a wide-ranging $1 trillion infrastructure plan he said would create 6 million jobs. During his campaign and once in office President Trump suggested his own infrastructure plan similar in scope to Buttigieg's, but it never materialized.
If confirmed by the Senate, Buttigieg, who is 38 years old, will be the first openly gay member of a presidential cabinet.
The trucking industry responded to Buttigieg's nomination.
American Trucking Associations President and CEO Chris Spear said, "Transportation is an issue that touches all Americans – urban, rural, coastal and in the heartland of our nation. Having served as a mayor, Pete Buttigieg has had an up close and personal look at how our infrastructure problems are impacting Americans, and how important it is to solve them.

"On behalf of the trucking and freight transportation industry, I'd like to congratulate Pete Buttigieg on his nomination to lead the Department of Transportation. We look forward to rolling up our sleeves and working with him to begin the important work of rebuilding our nation's infrastructure."
The Truckload Carriers Association reacted to Biden's announcement.
"TCA is pleased to learn that President-Elect Biden intends to nominate Pete Buttigieg to be Secretary of the U.S. Department of Transportation," said TCA President John Lyboldt. "Mr. Buttigieg will bring a unique perspective and ambitious ideas into this role, and we look forward to working with him and the rest of the Biden Administration to move the needle on infrastructure and other issues of importance to truckload carriers."
Interestingly, when Buttigieg announced he was running for president, he spoke from the former Studebaker auto manufacturing plant, which had been South Bend's economic engine until it closed in 1963. He also used the plant as a backdrop when he endorsed Biden.
Other Democrats said to have considered for the transportation post include former Chicago Mayor Rahm Emanuel, Los Angeles Mayor Eric Garcetti and Rhode Island Gov. Gina Raimondo, who advanced a controversial plan to charge tolls only on trucks using interstate highways in the state.