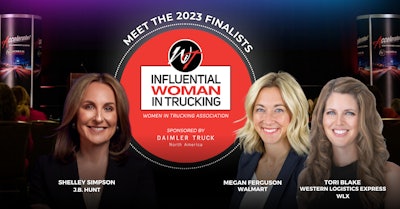 Women In Trucking
The Women In Trucking Association announced today three finalists for the 2023 Influential Woman in Trucking award sponsored by Daimler Truck North America.
The 2023 Influential Woman in Trucking finalists are:
This award was developed in 2010 to recognize female leaders and to attract and advance women in the trucking industry, and it highlights the achievements of female role models and trailblazers in the trucking industry.
The winner will be announced at the WIT Accelerate! Conference & Expo held in Dallas, Nov. 5-8.
According to a statement from WIT, Blake has made it her mission to mentor women in all facets of her business. She is responsible for financial management, talent acquisition, employee development and strategic visioning. During her time with them, WLX|WLE has been recognized as one of Kansas City's fastest-growing companies. She was also named Kansas City Business Journal's 2023 CFO of the year. Blake began her career as an auditor at Ernst & Young, one of the four largest accounting firms in the world.
Ferguson has over 15 years of experience at Walmart and Sam's Club, with a background in transportation operations and strategy and merchandise operations. She joined Walmart in 2007 as a Private Fleet Strategy intern and moved into the role of project manager of Walmart's Private Fleet Strategy upon obtaining a degree in supply chain management at Michigan State University. During her career at Walmart, she has filled transportation leadership roles in sourcing and procurement, inventory management and optimization as well as merchandise operations. In her current role,
Simpson began her 29-year career at J.B. Hunt as a customer service representative. She has gone on to hold multiple positions in business segments across the company, including leading Integrated Capacity Solutions, Truckload, Customer Experience, Highway Services and most recently serving as chief commercial officer and executive vice president of People and Human Resources. In 2021, she was named one of the Top 100 Women in Supply Chain by Supply Chain Digital.