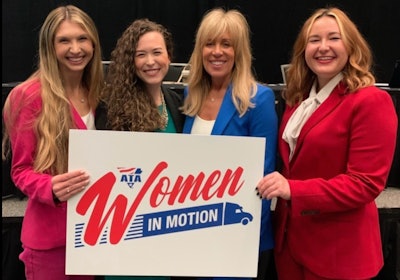 American Trucking Associations
American Trucking Associations' Women in Motion has formed a strategic partnership with Trucker Path, in an effort to address some of the concerns of women truckers.
Through this new partnership with Women in Motion, Trucker Path will be adding a number of features to its existing mobile app that will help women identify and locate facilities that have seven specific safety features including:
Lighted parking
Lighted bathroom access
Lighted lounge areas
Lighted shower facilities with 24/7 access
Lighted laundry facilities with 24/7 access
Round-the-clock maintenance
Onsite security
Facilities with all seven will be marked with the Women in Motion logo. Drivers will be able to provide updates on the condition of these amenities through the Trucker Path mobile app.
"We are thrilled to introduce this innovative and informative safety feature to our platform, a decision that deeply resonates with our commitment to inclusivity," said Trucker Path CMO Chris Oliver. "Through our platform, women can quickly and easily identify stops along their routes offering amenities catering to their needs, all while accessing real-time information on parking availability, fuel pricing and discounts, and so much more. Additionally, they can contribute their comments and reviews that serve as a valuable resource for fellow drivers – both women and men."