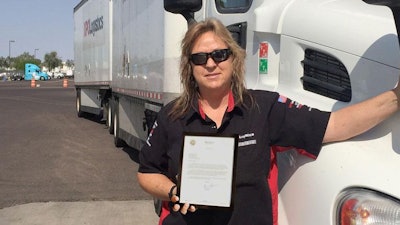 XPO
A woman driver from Arizona won a major award during the recent national truck driving competition.
Ina Daly, a professional driver for XPO, was honored during the awards banquet of the 2023 National Truck Driving Championships with the Neill Darmstadter Professional Excellence Award. The competition was held Aug. 16-19 in Columbus Ohio.
This award is presented to the driving competition's contestant who most exemplifies all the best attributes of a professional truck driver. Contestants are judged on their driving record, skill, knowledge, attitude, and professionalism.
Daly has been driving for more than 40 years and has accumulated more than 3.8 million accident-free miles.
She is no stranger to driving competitions. Daly has competed in the national contest 16 times, and participated in the Arizona state competition 28 times, and was its grand champion this year as well as in 2019 and 2018.
She got he start in trucking as a summer job at Con-way, where her father worked. Con-way was acquired by XPO in 2015,