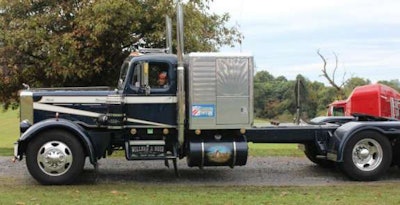 Willard Good's 1954 Mack LT proves the adage that, "Beauty is what beauty does."
Good has had this truck he dubbed Phantom 554 on the road for some 10 years hauling grain. He brought it to the 25th annual Mack Event at Gerhart's Machinery, in Litiz, Penn. earlier this month.
The sleek navy blue and white bulldog has a V8 Mack engine and 13-speed transmission.
As for the name, Good says it's a nod to the 1967 Rod Sovine song about a spectral Mack, Phantom 309, but adds, "I didn't want to copy everyone else."
Oddly, while sniffing about the Internet, we found a 2012 article in The New York Times about a memorial convoy that made a trek across Route 66. One of the trucks pictured: Willard Good's trusty 1954 Mack.