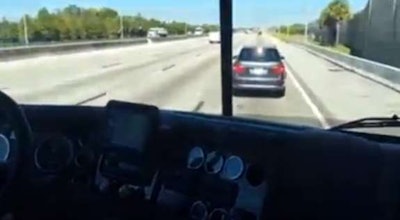 Detroit (formerly Detroit Diesel) showed off last week its new Assurance safety system, which uses radar to scan the highway in front of a truck to adjust cruising speed, alert drivers of fast closure rate and brake autonomously, if needed, to avoid a crash.
Daimler Trucks North America, parent company of Detroit, introduced the system earlier this year. But the company showed off the system to industry press last week outside of Miami.
The system will be available in the first quarter of next year on the Cascadia and Cascadia Evolution tractors.
The Assurance system integrates fully with Detroit's DD series engines and the DT12 automated-manual transmission.
If the truck's adaptive cruise mode is on, the Assurance system will adjust to slower moving traffic ahead and automatically return to speed if traffic begins moving faster.
If it detects a faster closure rate, it will mute the stereo in the truck and sound an audio alarm. If the closure continues, the system will tell the engine to decrease the throttle to slow the tractor. If the closure rate continues, the system will engage the truck's brakes, downshift the transmission and initiate the engine brake.
The system also gives drivers flexibility. If in tight traffic, the system can be deactivated for up to 15 minutes, if the truck remains under 49 mph.