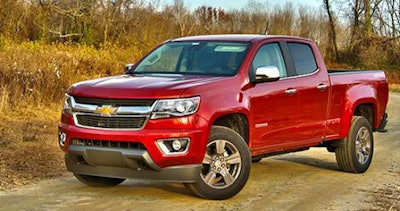 Motor Trend likes one. Autoweek likes the other.
That's the latest in the Truck of the Year competition if you are keeping score at home.
Motor Trend named the Chevrolet Colorado its top truck for 2015, while Autoweek liked its corporate cousin, the GMC Canyon.
The Colorado bested six other mid-sized pickups.
"Colorado is a smart, capable, and refreshingly honest truck that makes a strong value and efficiency statement," Motor Trend editor-in-chief Ed Loh said of his magazine's choice.
Autoweek gave the nod to the GMC Canyon by saying, "It's truly a truck in the most honest sense of the word …" and praised its "… refinement, modern conveniences and amenities, high-quality build, practicality and style."