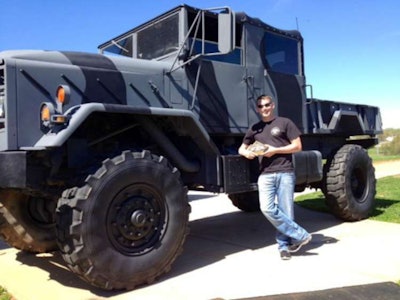 Like happens so many times to good ideas, what began as a hobby became a business for Matt Speed.
Speed started out in 2012 restoring a mammoth military surplus truck for his own use, and today his Custom Combat Trucks located in Cornelia, Ga. North of Atlanta is refurbishing and customizing them for others.
And, he and his customers are pleased with the outcome.
Speed took time to answer some questions about the trucks and how they go from utilitarian military vehicle to highway head-turners.
What were these trucks used for before they became Army surplus? What were their roles in the military, where were they used, what did they haul. When were they used?
(They did) the grunt work of the U.S. military. If it needed to be moved these trucks got it done in one form or another!
These trucks were used as equipment haulers, troop carriers, and general cargo purposes. Some of these trucks are used in a tractor and trailer form and others as crane trucks, wreckers, water trucks and even mobile command centers. Several different bed and body configurations are used on these trucks.
We try and find cargo and tractor trucks to build off of. The wheelbases for those trucks work best for our custom builds.
Most of these trucks were used here in the states. They come from military bases all over the country. A few have even made it back from the Middle East. The M939 series trucks were built from 1983-1994.
What are the mechanical specs of these trucks?
These trucks are known as M939 series 5-ton trucks. They come in a variety of configurations from the military.
The stock M939 series truck comes in two primary types. The A2 series and The A1 series; the biggest difference between the A1 and A2 series are engine size and CTIS "Central Tire Inflation System."
The A1 comes with an NHC250 Cummins and no CTIS system. The A1 comes with a 6CTA 8.3L turbo Cummins ad the CTIS system. There are other slight differences but not enough to really mention.
Both of these trucks have great engines. Both trucks can also have ABS systems; most of them do in either A1 or A2. The pros and cons differ from person to person depending on opinion.
The A1 is sought after by old school guys, myself included because the NHC is reliable and as hard-core as it gets. It also produces more horse power (250 hp) over a stock 8.3L (240 hp) engine in the A2. Also the CTIS system is very prone to malfunction or not work all together. We remove it from our trucks. The NHC is a much more simple motor than the 8.3L and has a bullet proof reliability reputation.
The A2 is sought after by most people over the A1 because of the 8.3L engine. This engine has a turbo and a fuel pump that just begs to be turned up. This engine will make 400 hp easy with a couple twists of a screw driver in just the right place. That being said, the more power, the more potential problems.
It all boils down to what the customer wants: Roll Coal and have serious power or make it to Alaska and back a few times? We can make either person happy. The drive line doesn't change after that.
Here is a list of the specs for these trucks.
Engine size NHC250 Cummins (855ci) 250HP or Cummins 6CTA 8.3L Turbo (240HP)
Allison 5-speed Automatic transmission
Rockwell Hi/Low 2-speed air shift transfer case
Air shift 4×4 in and out engagement
Rockwell 5-ton top loading axles
20" 2-piece bead lock wheels with 53" tires
GVW is 24,500 lbs. so no CDL is required
Curb weight is 16,300 lbs.
Payload is 7,000 lbs.
Towing capacity: your mother in-law's house, aircraft carrier or small mountain.
What is the process like from the time the truck arrives at your shop to the time it gets delivered? What all goes on? Any modifications for civilian use, like emissions, etc.?
Once a 5 ton arrives at the Custom Combat Trucks shop, its life changes forever. We take pride in giving these trucks a second life in the civilian world, just as a combat veteran has to shed the uniform and take on a new look as they end their time in the military. Think of it almost like the world's manliest makeover.
We take a big, tough machine and make it bigger and tougher looking. We remove an axle to give it more of a "pick-up" look. If you have ever worked beside a veteran, try to compare the idea. A veteran in the workplace has to try to look like everyone else, but you can pick them out as veterans by their qualities. Same with a Custom Combat Truck.
The pick-up look is intended to sit beside the other civilian vehicles that were built for only civilian use. However, the truck has custom, aggressive front and rear bumpers. We then "paint" our trucks with a custom spray-on bedliner. The fact is, these trucks will be taken into areas where the paint might get scratched. A tough truck needs a tough paint job. The bedliner has a manufacturer lifetime warrantee, not that anyone will need it.
The crew cab is the ultimate complement to the civilian transition. When the rear two doors are added, it gives the truck a full transitional feel. Just in case the truck wasn't big enough, we mount 53″ tires for each truck to stand tall and proud on.
Each truck has the option of a hard top or a hybrid soft-top for convertible use. Then, window tint, custom lights, custom storage boxes and custom grills all complete the exterior. We then complete the interior per customer specifications.
Something important to remember is that these are all custom builds. No two trucks are alike. Custom seating, sound, storage, interior lighting, carpet, control lights, air conditioning, electronics, and many other options are added to the interior.
Who is buying them? Are ex-military people buying them? Are they going back to work or are these, for a lack of a better word, "toys" for those who can afford them? Is there a practical application?
We get a lot of interest from ex-military. However, this is not our customer base. We have customers that use these as "billboards" for their business, for daily commuters, and for play. They are very fun to drive and nearly all customers, regardless of original intent, use the trucks to play.
There are practical uses as well. We have had interest from companies interested in having snow plows installed for emergency vehicle use. We have been contacted about installing dump beds for various uses. The uses for these trucks are only limited to the bounds of the imagination. They are very popular bug-out vehicles. Honestly, if the world collapsed around you, could you think of a more useful vehicle?
I saw one on your website with Wounded Warrior Project on the tailgate. Tell me about that truck.
That truck was built for a customer who had spent a large part of his life supporting the military. He had a terminal illness and wanted to buy the truck to support the Wounded Warrior Project. Upon his passing, it was his will to auction the truck off and the proceeds be donated to the WWP.
I noticed on your site, some pretty nice interiors. Are these meant to be "luxury" vehicles?
We can customize to a "luxury" level, however, it has yet to be practical. As far as military vehicles go, they are luxurious. You no longer feel like you are sitting in a military truck. The seats are comfortable. The carpet actually makes the interior feel cozy. In the end, it is still a rugged piece of American machinery. The ride is more comfortable and the feel is more aesthetically pleasing, but the luxury comes in the enjoyment.
The real debut of the trucks was at a Luke Bryan concert near Athens, GA. When we approached the parking area and asked where we could park, the attendant looked in awe and replied, "Wherever you want." Then he proceeded directing "all other trucks" to designated areas.
Tell me about yourself, your background. Education? Where did you learn your mechanic's skills? Are you a veteran?
I am a self-taught jack of all trades and master of very few. I graduated high school and went directly into the workforce washing cars at a local dealership and eventually a new car salesman there.
I did not serve in the military although I wish now that I had. I do donate to veterans and employ a veteran for our website and IT needs.
I have been very blessed to find opportunities in weird places, like these trucks. I have always had a passion for large trucks and off-road vehicles. I built several jeeps over the years and decided I wanted an M35A2 better know as a "deuce and a half. I'm not sure why I just got tired of jeeps and regular trucks.
I didn't have the money at the time to buy one. As a full-time single Dad with two kids, money isn't exactly just lying around. So I decided I would trade around and trade up for one. I started with an old beat up jeep that I bought for $700 and traded up after a few months to a deuce and a half. After that I was really out of ideas until I saw that someone had built a "crew cab" version of these trucks. I naturally thought, "I can do a better job than that." So with the help of a friend and now future brother in law Aaron Boone — who is a genius behind a welding helmet — we built a crew cab 2.5 ton truck. I could not build these amazing trucks without him.
As with most of my projects though I looked for something even bigger and better. Hence the 5-tons. It seemed others started taking notice of our trucks as well and before too long we had people wanting us to build them a truck. So then Custom Combat Trucks was born.
So, what does one of these custom beauties cost?
Our trucks start at $27,500 and $52,500 depending on cab configuration and go up from there. The amount of options, refinement and upgrades is limitless. We could probably get twice that and may have to as demand increases but we try to keep them affordable to more people.