Not since Chuck Norris and Nolan Ryan has it been this cool to be a Texas Ranger.
The Ram Truck brand has unveiled a one-of-a-kind Texas Ranger concept truck to commemorate and promote their partnership with the law-enforcement agency and the Texas Ranger Hall of Fame and Museum.
Although the Ram Texas Ranger edition was designed as a one-of-a-kind concept that will tour Texas and help build awareness for the Texas Rangers Hall of Fame and Museum, Ram officials have not ruled out a possible production run.
Exterior
The Ram Texas Ranger edition concept truck is identified by unique Texas Ranger badging designed to represent the Mexican five-peso coins from which Ranger badges are tooled.
The coin was minted from 1947 through 1948 and was the basis for the first official Texas Ranger star badges. The coin was re-tooled to the star-and-wheel shape worn by today's Rangers.
Representative of those star-and-wheel badges, large five-pointed milled-aluminum emblems are mounted to front driver and passenger-side fenders. A third milled-aluminum Texas Ranger badge adorns the concept truck's tailgate. The four polished-aluminum 20-inch wheels also gets a milled-aluminum Texas Ranger center cap.
The Texas Ranger edition is painted in a Bright White (the color of the good guys) and Bright Silver Metallic for the silver badges.
Interior
Canyon Brown and Tan leather and tooled-metal details are borrowed from Ram's Laramie Longhorn edition, but the truck features plenty of unique extras.
Four Mexican five-peso silver coins inlaid within the wooden portions of the door bolsters. Front doors have the heads side and rear doors contain the tails side of the coin.
Other custom features include:
A milled-aluminum Texas Ranger instrument panel badge, noting the founding year of the Texas Rangers, 1823
New center stack, center console, door spears and seat trim bezels with simulated galvanized metal decorative finish
New Canyon Brown-stained open-pore walnut wood trim pieces throughout the cabin, including the all-new console tambour door
Texas Ranger console lid badge, which is drawn into the premium Natura Plus leather
Underneath the console lid is a vault with a combination lock to hold items of value
Texas Ranger sewn-on and etched leather seat badges

Texas Ranger badging on the gauge cluster splash screen

Texas Ranger edition graphic themes in the 8.4-inch UConnect center console stack
Leather-wrapped front and rear grab handles
New door trim panels with tan accent stitching
New steering wheel with milled-aluminum, distressed-finish Ram badge and tan accent "X" stitching
Premium speckled accent color floor mats with accent color surging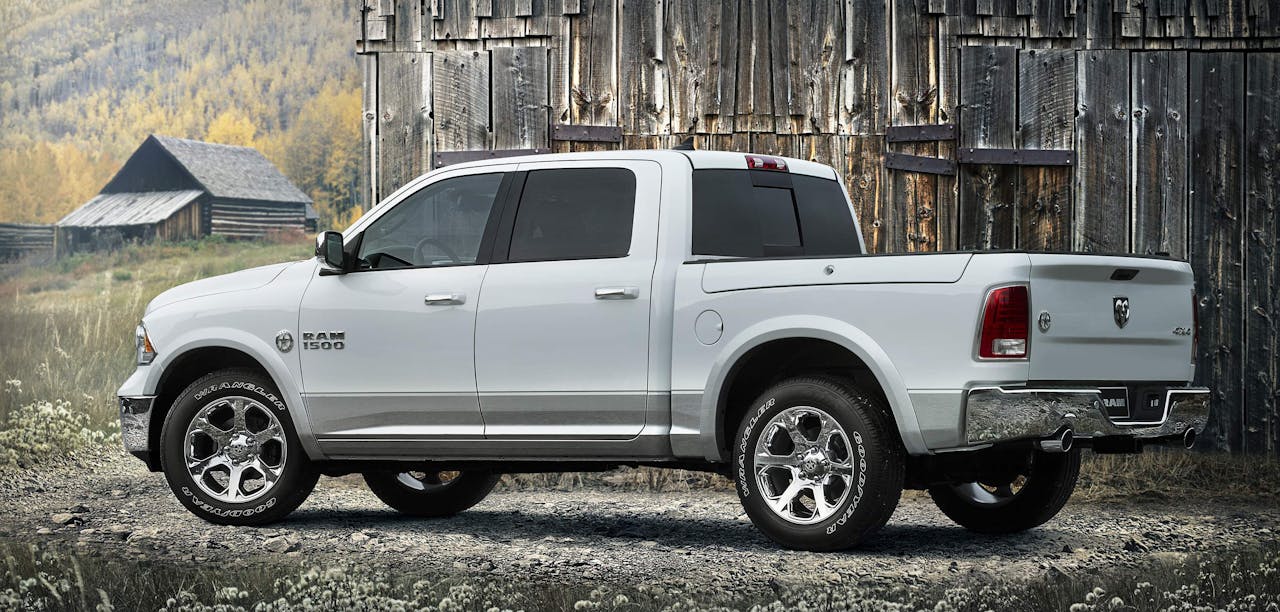 Ram recognizes Texas Rangers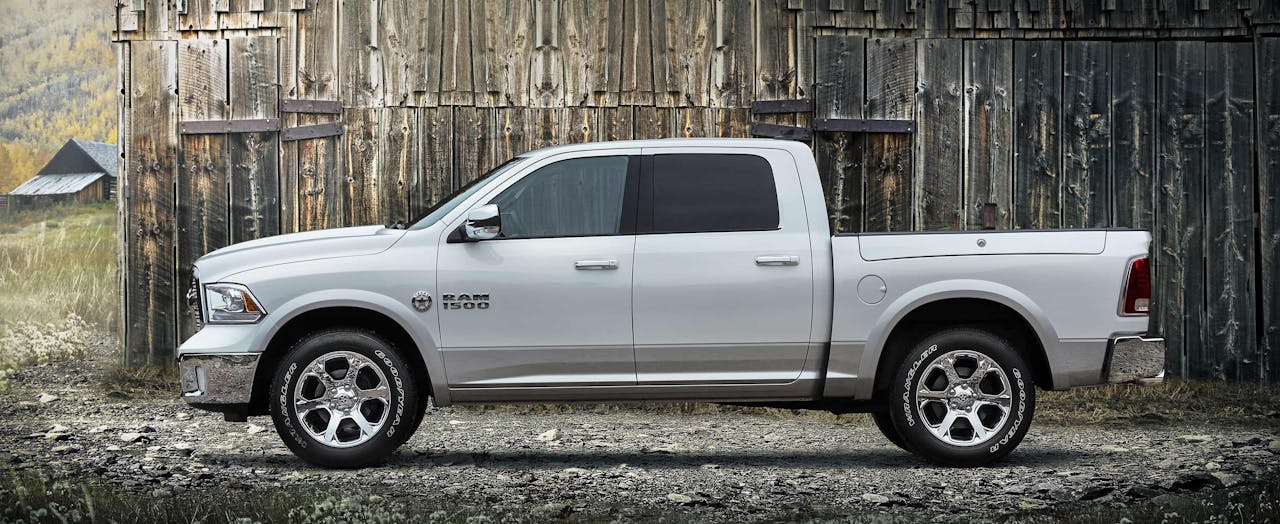 Ram teams with the Texas Rangers, the lawmen not the baseball team.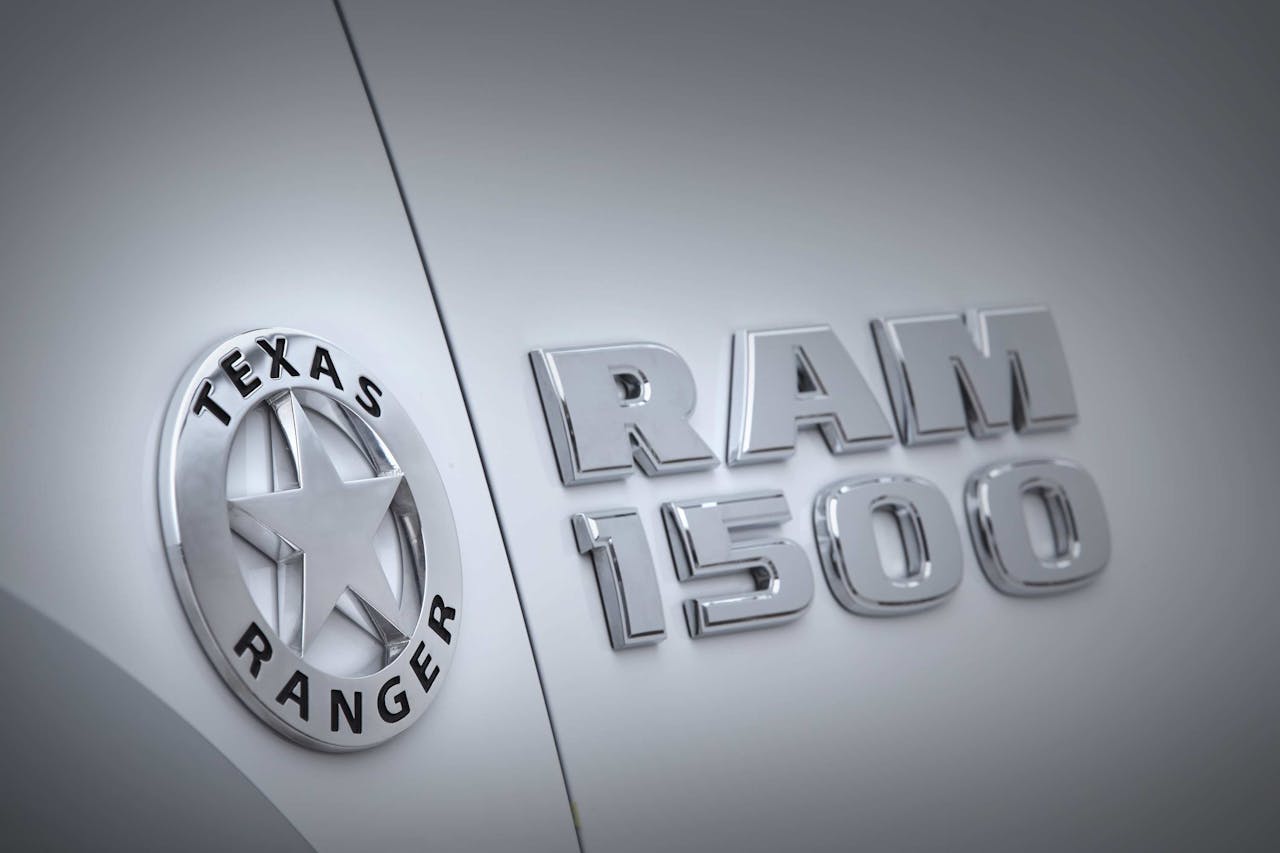 This special Ram has special badges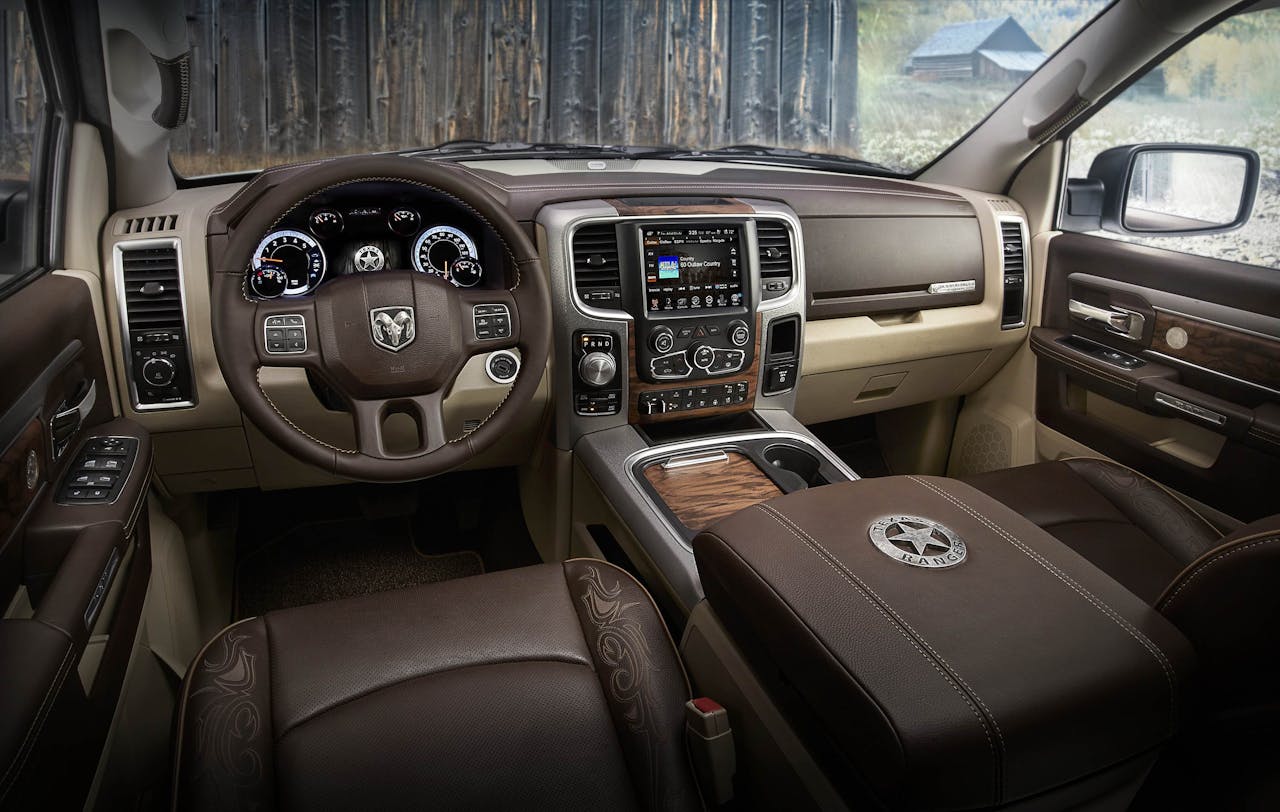 Ram gave the interior an upscale western look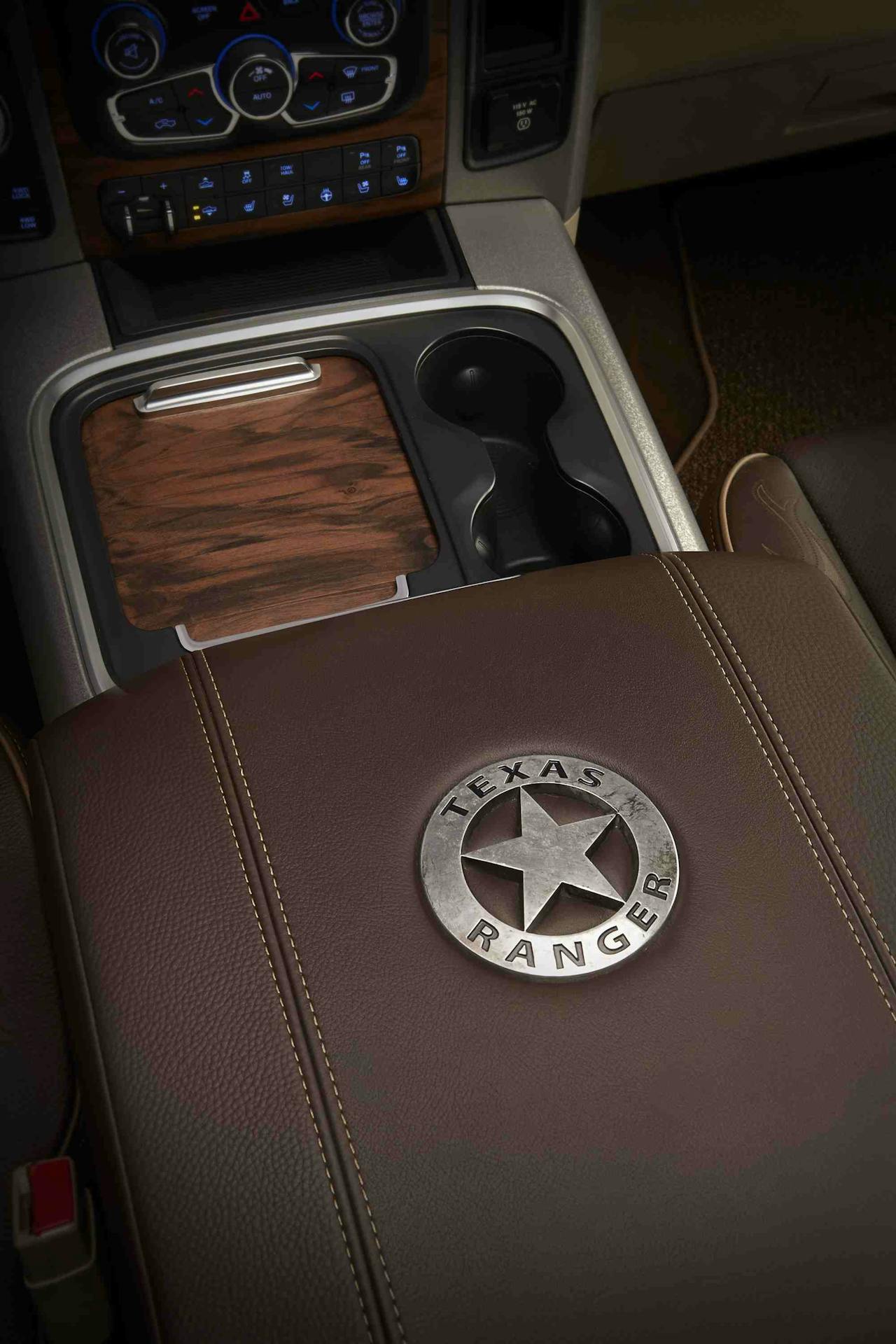 Lawman's badge repeats in and on this Ram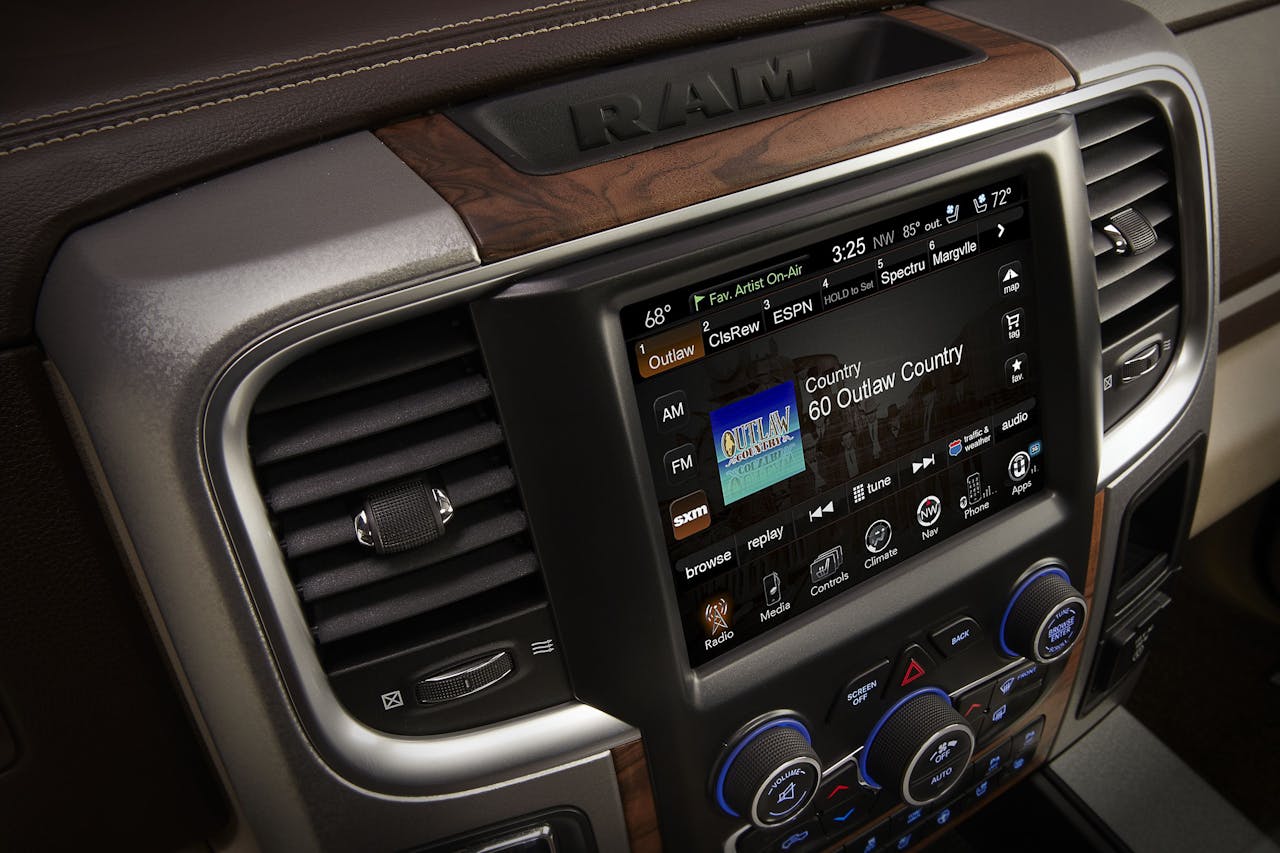 The Ram's media center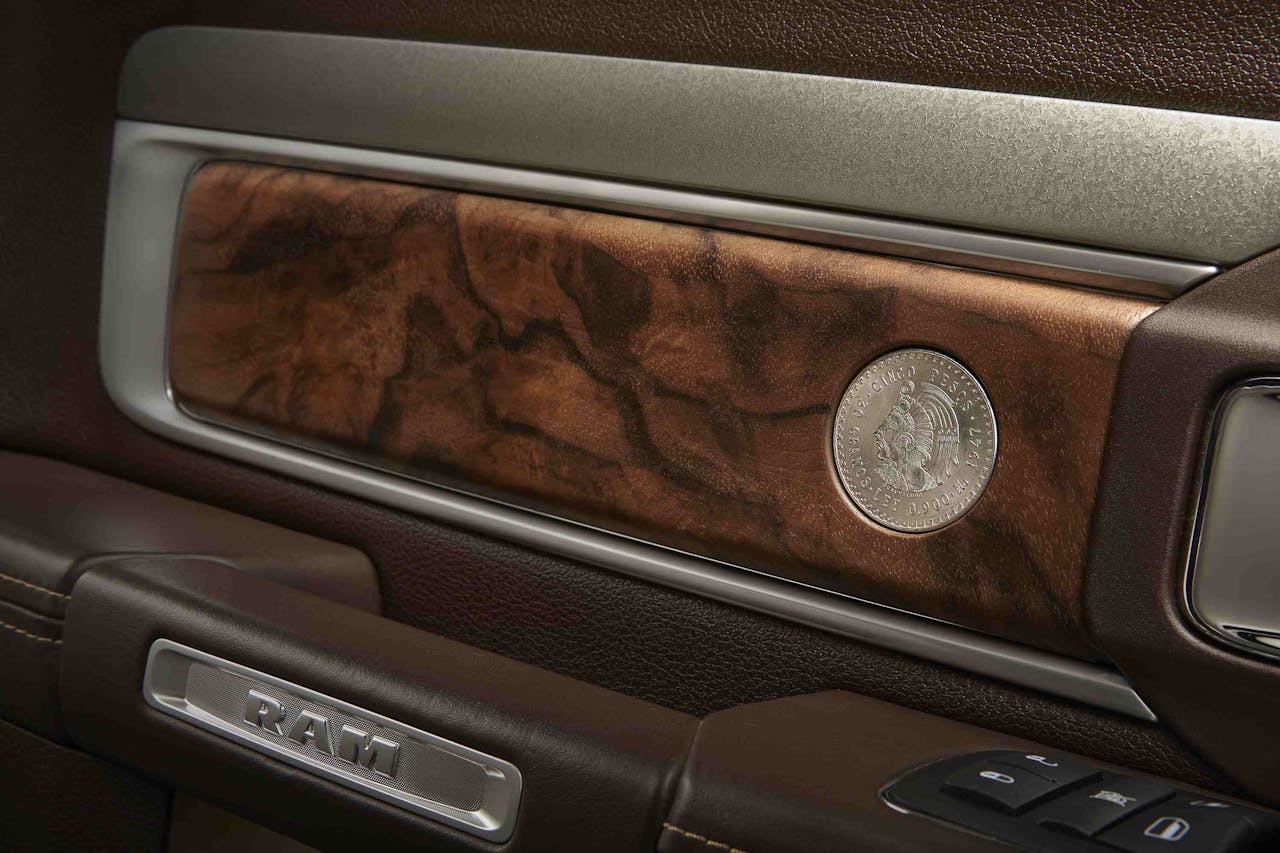 Mexican five-peso coin motif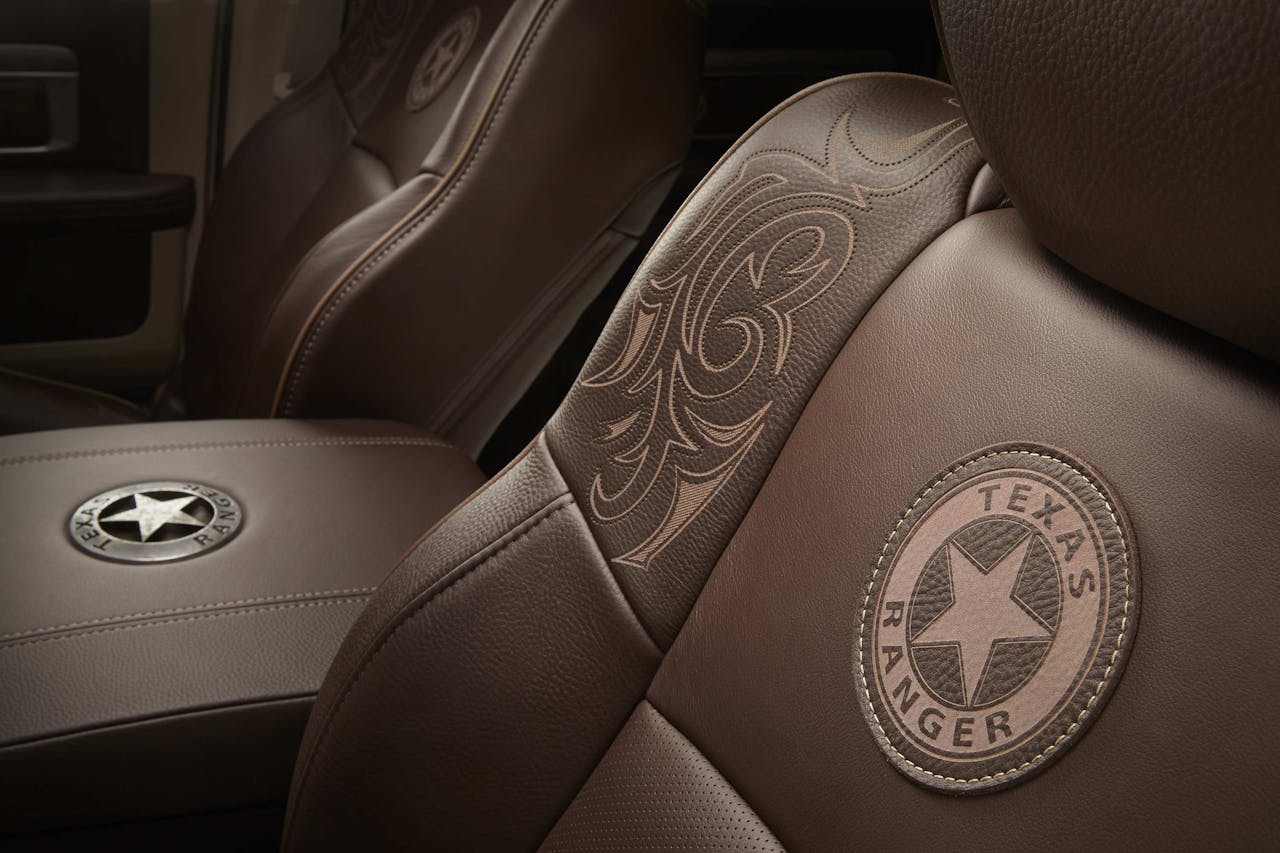 Texas Ranger seat badges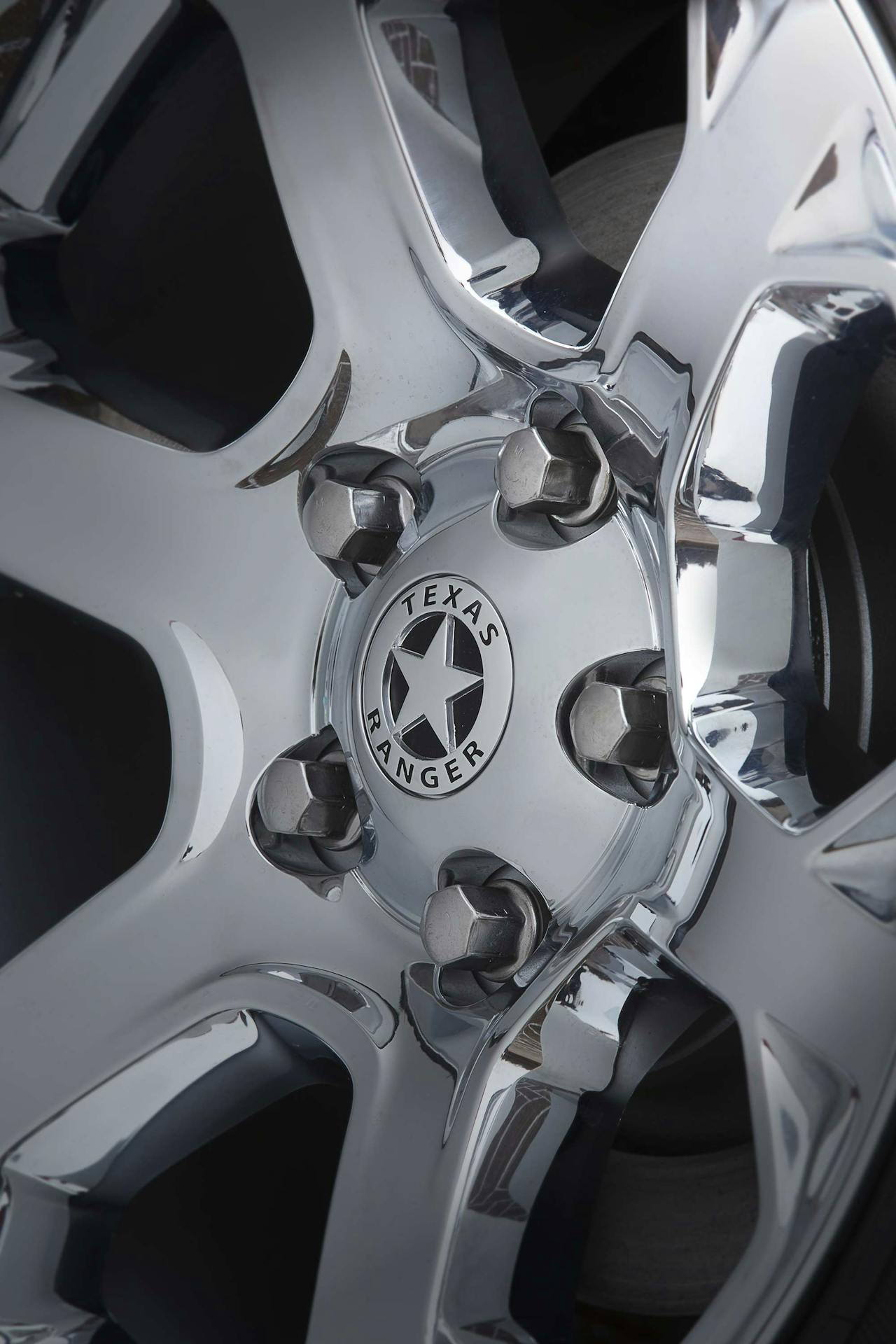 Special wheels on this Ram Texas Ranger concept truck