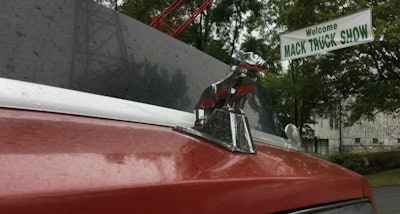 For the 27th year, owners and fans of Mack trucks are gathering in Lititz, Pennsylvania for what is one part truck show and one part family reunion.
The All Mack Show is Saturday, Oct. 1 on the front lawn of Gerhart Machinery just outside this community Budget Travel voted the Coolest Small Town in America.
The presence of between 150-200 mostly vintage Mack trucks can only add to the coolness factor.
There's no charge to show your truck; admission and parking is free.
Macks started rolling in Friday morning in a light drizzle. Some of the first from out of town came in a convoy of haulers from George Tackaberry's collection of trucks in Athens, Ontario, Canada.