A Nebraska trucking company drove off with the first of Peterbilt's newest models, the 567 Heritage.
Peterbilt Motors Company presented the first production 567 Heritage to Rod Hinz, COO of Hinz Trucking, who drove it off the assembly line at Peterbilt's Denton, Texas manufacturing facility.
Badged with Heritage logos on the grille and sleeper engraved with "No. 001," the truck is the first of 20 Heritage trucks ordered for 2016 production by Hinz, who said they will be used as reward trucks for its owner-operators through the company's lease-purchase program.
"The Model 567 Heritage is a great fit for Hinz Trucking's image as a premium carrier," said Hinz. "We take pride in our fleet and the Heritage will be a prized truck for our owner-operators, as well as giving us a strong edge in recruiting and retaining the best drivers."
Hinz Trucking, founded in 1985 and headquartered in Elm Creek, Nebraska, operates a 110-truck fleet specializing in flatbed hauls throughout the 48 contiguous states and Canada.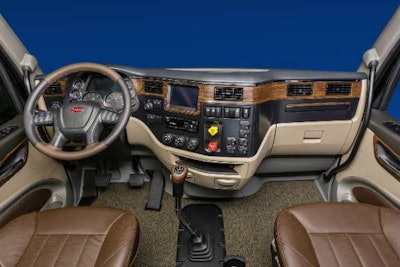 "We are pleased the first Heritage is going to a customer that values quality, image and exceptional customer service as strongly as Peterbilt," said Robert Woodall, Peterbilt assistant general manager of sales and marketing. "The Model 567 Heritage was designed for premium fleets and owner-operators who embrace distinctive styling and operating trucks that look like no other on the road."
The Heritage presented to Hinz Trucking is equipped with a PACCAR MX-13 engine and 80-inch sleeper.
The Model 567 Heritage is configured with a 121-inch BBC and set-forward front axle (SFFA) to optimize payloads and weight distribution, according to the company. It can be spec'd as a day cab or with a 72- or 80-inch sleeper.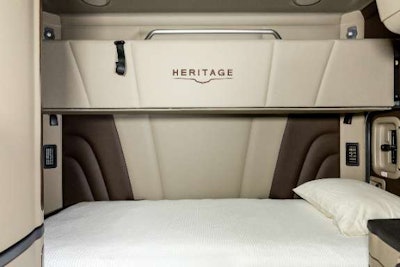 Exterior features of the Model 567 Heritage include:
Bright bumper, grille bars, exhaust stacks, mirrors and sunvisor;
Chromed air intake bezel and metal hood latches;
Polished rocker panels, quarter-fender closeout panels, fender brace and brackets, battery boxes and fuel tanks; and
Special Heritage badging, uniquely numbered and mounted to the grille and sleeper (when applicable) for the first production trucks.
Inside the cab, the Model 567 Heritage:
Platinum-level Heritage Brown interior with a black dash top and wood-finish trim;
Premium brown leather seats with accent stitching to complement the cab design and embroidered Heritage logo in the headrest; and
Door pads with brown wood trim.