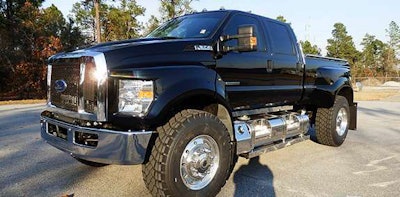 A big man needs a big truck.
A really big man needs a really big truck.
Retired NBA mega-star Shaquille O'Neal recently was in the market for a new vehicle, and he seems to have found something that suits his stature.
Based on an F-650 commercial chassis, the 7′ 1″ O'Neal's new truck has a leather interior, navigation, heated seats and all the luxuries you would find in a top-of-the-line F-250. However, The F-650 "Extreme" he purchased comes with a 6.7-liter Powerstroke V-8, which delivers 330 horsepower and 750 lb-ft of torque.
It appears O'Neall bought a $65,925 2017 Ford F-650 truck and transformed it into a $124,150 pickup.
Shout out to @wadefordatl just gotta SHAQ SIZED f650 thanks FORD FOR MAKING BIG TRUCKS FOR BIG GUYS pic.twitter.com/WCDdMO4jwM

— SHAQ (@SHAQ) May 1, 2017