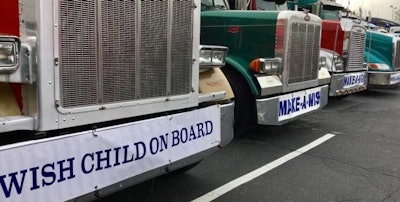 It was a comparatively quick and easy local run: Lancaster to Ephrata and back; 29 miles on a sunny Pennsylvania Sunday afternoon.
But, for a charity in the business making wishes come true for kids with life-threatening illnesses, it was the most important day of the year.
On Mother's Day, Sunday, May 14, the drivers of 595 trucks each made that round trip — a cumulative 17,255 miles — and helped raise what the Make-A-Wish of Philadelphia, Northern Delaware and Susquehanna Valley expects will end up being $450,000. The truckers themselves will have raised $300,000 of that total.
Ben Lee, regional director for Make-A-Wish said truckers from 13 states signed up for this year's convoy. And, he said, that's not lost on the organization or the local community.
"(Drivers) come here because truck drivers in Lancaster County are held in higher esteem than anywhere else in the country," said Lee. "When people think about Mother's Day, when the think about Make-A-Wish, they think about truck drivers who are serving and caring and raising money and ultimately doing good in the community. People here love truck drivers and they come out today to say thanks to them."
The RoadPro Family of Brands, which is located in nearby Palmyra, Pennsylvania, is the major sponsor for the convoy that also includes live music, an auction, food and kids games.
Just before the convoy hit the road, RoadPro's Gina Bonafede presented the company's donation of $20,000 to Dennis Heron, president and CEO of Make-A-Wish. Heron said the convoy was a "one of a kind event in the country" primarily because of the support of the drivers.
Bonafede also praised the drivers and said RoadPro's involvement with Make-A-Wish and the convoy was a natural fit, and that there was "no better place for our team to be."
Also during those ceremonies, time was taken to honor J.C. Hale, the man who originated the convoy — there were 40 trucks that first year — and who died in 2016. The convoy has been named in his honor. Also, remembered were five "wish" children who succumbed to their illnesses since last year's event.