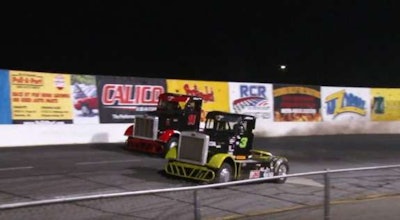 Big rig racing returns to action this weekend in Greenbriar, Tennessee when the Minimizer Bandit Big Rig Series rolls into the Highland Rim Speedway Saturday, July 1.
This is the first quarter-mile speedway on the Bandit schedule this season.
"Quarter miles make for some interesting action because they're so short," Bandit Director of Operations Brian Madsen says. "There isn't much room on the track, so you can expect more bumping and rubbing, two things that fans love to see."
Gates open for Saturday's race at 4:30 p.m., and racing begins at 6 p.m.
Tickets for this weekend's race are $20 for general admission; $10 for senior, military and students; and $5 for children ages 6-12. Presale tickets are available here.