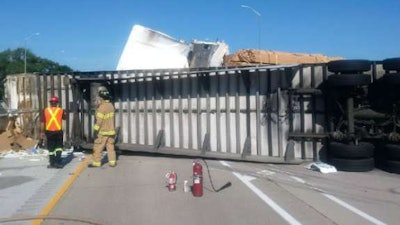 A 27-year-old truck driver from Quebec, Canada was charged with careless driving following a three-truck collision that shut down the westbound lanes of Highway 402 near the Blue Water Bridge in Sarnia, Ontario the morning of Tuesday, July 25.
The man was behind the wheel of a tractor-trailer that rear-ended a row of stopped trucks waiting to cross into the U.S. at Port Huron, according to Ontario Provincial Police. According to the OPP, one truck's trailer went onto its side and that truck's cab was damaged. Two people in that trucker were taken to hospital with minor injuries, according to the OPP.
This is the second time in less than a week that multiple trucks have crashed on Highway 402 while waiting to cross the bridge. On July 19 Alabama truck driver Dannie Faulk, 61, was killed when a tractor-trailer smashed into the back of a stopped truck.
In both crashes driver inattention appears to be a major factor, according to the OPP.
Signs with changeable warnings about stopped traffic are under the control of the Ministry of Transportation and the highway is monitored by surveillance cameras. The speed limit drops as drivers approach the Blue Water Bridge changing from 100 kilometers per hour to 70 and finally 50.