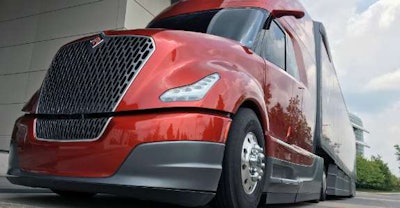 Jason Cannon is the equipment editor of Overdrive and Commercial Carrier Journal, and he recently had and opportunity to get a firsthand look at Navistar's CatalIST Super Truck. Here's what he said:
"The only thing more eye-popping than the aesthetics of Navistar's CatalIST Super Truck project is its $7 million price tag – more than twice the GDP of some small island nations.
"For comparison, $7 million would buy you three Ferrari LaFerrari FXX K sports cars, but the 1,035-hp supercar isn't emissions-compliant, an area where International's $40 million joint project with the U.S. Department of Energy shines.
"DOE's goal for its Super Truck program was to boost freight efficiency by 50 percent, a target CatalIST obliterated with a 104 percent improvement. Against a model-year 2009 baseline truck, CatalIST achieved fuel efficiency of 13 mpg and demonstrated 50.3 percent brake thermal efficiency (BTE) and a path toward 55 percent BTE."
Read Cannon's complete review on the Commercial Carrier Journal website.