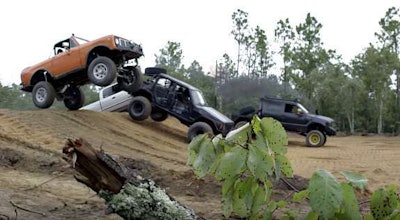 History, the cable network that gave us Ice Road Truckers, debuts a new pickup truck competition series starting next month.
Truck Night In America arrives at 10 p.m. Eastrern Thursday, March 8, and features 50 truck owners from across the U.S. competing for $10,000 by driving over a demanding obstacle course.
Helping the competitors are four expert coaches:
desert racing champion and track builder, "Pistol" Pete Sohren
extreme sports pioneer and dirt track racer, Glen Plake
truck builder and master fabricator, Abe Wine
rock crawling champion and master fabricator, Rob "Bender" Park.
Each episode features five drivers in their personal customized trucks and Jeeps going head to head in three challenges, each testing a different vehicle attribute: speed, strength and handling. Between each challenge competitors demonstrate their craftsmanship by re-engineering their trucks for the next round.
"Trucks have a true place in American history, both past and present, and as the most widely sold vehicle with 133 million currently on U.S. roads there is an appetite for this genre of programing," said Eli Lehrer, executive vice president of programming, History. "Since 1925 when the first American factory-produced truck rolled off the line, owners have been devising ingenious ways to make them faster, stronger and better and this can be seen with the tough competitors in our new series."
Be sure to check your local listings.