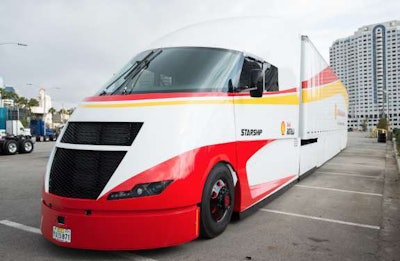 If your travels take you down I-95 and into north Florida later today, you'll have a chance to see the futuristic shell Starship tractor-trailer finish its 2,361-mile coast-to-coast fuel efficiency test run.
The radical-looking Class 8 truck sponsored by Shell is expected to arrive at EverBank Stadium in Jacksonville at about 6 p.m.
It left San Diego May 18 and has made several stops along the way. It's carrying 39,000 lbs. of material that will be placed in the ocean to create an artificial reef.
You can read more about the Shell Starship and its test trip on our sister site, Hard Working Trucks.