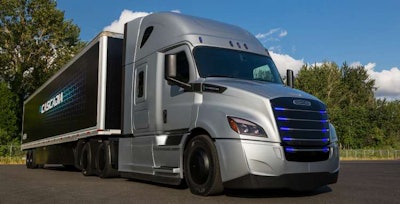 Daimler Trucks announced that two major carriers are adding the company's electric Freightliner eCascadia and eM2 trucks to their fleets.
Penske Truck Leasing and NFI Industries will receive a total of 30 of the electric trucks. According to a statement from Daimler, it also is working with the customers on route planning, development of charging infrastructure and vehicle service support.
Ten Freightliner eCascadias will be delivered to NFI for drayage activities from the ports of Los Angeles and Long Beach to warehouses in California's Inland Empire metro region, according to Daimler.
"Innovation is what moves the world and business forward," said Sid Brown, CEO of NFI. "At NFI, we value collaborating with other companies that share our commitment to developing new and better products and processes for our industry and the communities in which we operate. The eCascadia is just that."
NFI Industries operates some 4,000 tractors and about 8,900 trailers in North America.
Penske will get 10 Freightliner eCascadia heavy-duty trucks for regional delivery and 10 medium-duty eM2 for local operations in the Northwest Pacific and in California, according to the Daimler release.
At the start of production, the eCascadia will have up to 730 peak horsepower, according to the company. The batteries provide 550 kWh usable capacity, a range of up to 250 miles and have the ability to charge up to 80 percent (providing a range of 200 miles) in about 90 minutes.