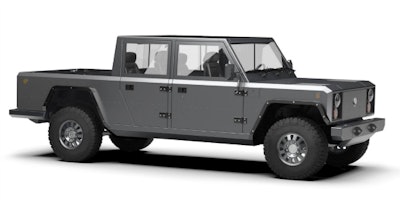 A small electric vehicle manufacturer in Upstate New York plans to make its second vehicle a 4 x 4 pickup.
Bollinger Motors, which is located in Hobart, New York southwest of Albany, announced in a post to its Facebook page that it will produce the all-electric, all-wheel-drive Bollinger B2 Pickup Truck.
Like Bollinger's first vehicle, the SUV B1, the B2 will have dual motors, all-wheel drive, hydropneumatic suspension, in-wheel portal gear hubs, 120 kWh battery pack, large frunk (front trunk) space, and a patented pass-through door for long items.
The company said both vehicles will be manufactured on the same assembly line in 2020.
Options, pricing and further details for the B2 are expected in 2019.
For full specs, visit BollingerMotors.com