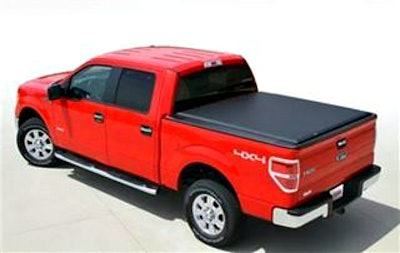 Just in time for Cyber Monday shopping Truck Gear by LINE-X has launched an all-new online store giving truck owners and enthusiasts the ability to order Truck Gear-brand accessories online and have them shipped to their nearest LINE-X franchise for free, or to their home for the cost of shipping.
Truck Gear by LINE-X accessories are exclusive to the LINE-X franchise network and are only available through local franchises and this new online store. The new secure system is designed to make shopping easier for everything from custom step bars to tonneau covers.
A wide variety of Truck Gear by LINE-X products will be available online including:
LXP Hard Folding Cover – LINE-X coated panels give this hard-folding cover extra protection
Deluxe Roll-Up Cover – Low profile, maintenance-free
Stealth Hard Folding Cover – Robust design, sleek appearance, popular matte black finish
Drop Step – Adds aggressive styling, heavy-duty nerf style step bar
4-inch and 5-inch Oval Step Bars – Truck Gear's premium stainless-steel step bars
Retractable Hard Cover – High-end, highly durable cover that retracts with ease
Soft Tri-Fold Cover – Value-minded, functional soft-style tonneau cover that requires no tools to install or remove
Crossover Toolbox – Low profile and standard designs with high-quality diamond tread aluminum and optional custom-fit toolbox liner
Additionally, Truck Gear by LINE-X offers lifestyle products that are exclusive to LINE-X franchise locations and soon to be available online at BuyTruckGearOnline.com.
Expedition Cooler – Bonus features include a commodity shelf, chopping board, and dual cup holders. Available in 20qt, 45qt, 75qt, and 110qt
Jump Starter and Power Bank – Up to 600 max cranking amps of starting power
Ratcheting Tie Down Kit – Heavy-duty tie-down straps available in 10- and 20-foot versions.
For a limited time, select Truck Gear by LINE-X products will be discounted online and at participating LINE-X locations. For more information or to purchase Truck Gear by LINE-X accessories, visit www.BuyTruckGearOnline.com or www.TruckGear.com.