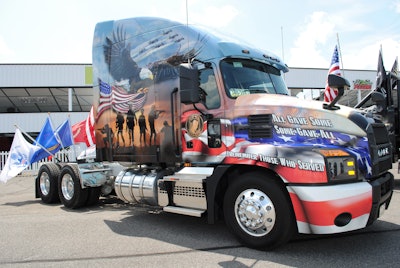 Mack Trucks introduced on Memorial Day weekend its latest patriotic rig, a custom-wrapped Mack Anthem.
The truck was in the 32nd and final Rolling Thunder – Ride for Freedom rally May 26 in Washington, D.C. The event honored fallen military heroes and draws attention to continued efforts to recover prisoners of war and those missing in action.
The customized Anthem features graphics honoring each branch of the U.S. armed forces and prisoners of war. On the side of the truck are the words, "All gave some; some gave all. Remember those who served."
Employees from Mack's Lehigh Valley Operations, where all Mack vehicles are assembled, and the Mack Customer Center traveled from Pennsylvania to Washington, D.C., to join thousands of other Ride for Freedom participants.