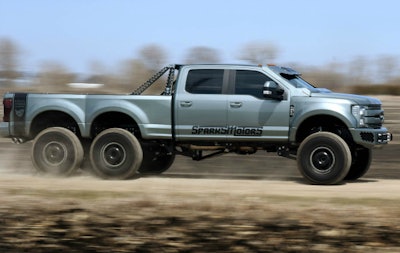 Indomitus, the mega-pickup truck built Discovery's "Diesel Brothers" reality show, will highlight this weekend's Bandit Big Rig Series race at Elko Speedway in Elko, Minnesota.
The Ford truck is 11 feet long and the only true 6×6 super duty pickup. It runs on biodiesel made from soybeans.
The race gates open at 3 p.m. Saturday, July 27, and the green flag drops at 7 p.m. The event features a Kid's Zone, Vendor Row, and a Fan Series Truck Show. Admission is free for kids 8 years of age and younger.