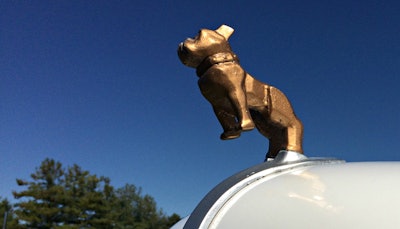 They come for the trucks, but over the years they have stayed for the friendship.
That pretty well sums up Mack Days, the casual gathering of Mack truck owners and lovers held last weekend — and 29 similar weekends before it — at Gerhart Machinery in Lititz, Pennsylvania. Some 175 trucks — mostly Macks, but a lot of other brands of vintage iron as well — filled the sprawling front lawn of Roger Gerhart's business and the family farm where he has lived since he was a kid.
And, this, the 30th Mack gathering at Gerhart's place drew a crowd, enticed by perfect fall weather and the prospect of a laidback truck show.
"A lot of it's the friendship, the fellowship, visiting with people," said Gerhart Saturday. "The trucks are great, but the people are greater than the trucks."
Gerhart said this gathering of Bulldogs began as a Plan "B" in 1989. He and a few other Mack fans were hoping to stage a show at Mack's corporate headquarters in nearby Allentown. That fell through when company execs had second thoughts. So he did the neighborly thing and invited folks to line up their trucks at his place, "and we had a nice time." About 50 trucks were at the first show.
Gerhart was honored with the presentation of a plaque and a 30th anniversary cake at a special dinner the night before this year's show.
"Last night when they had this cake with thirty years on it, I said, 'Gosh, I can hardly believe it's thirty years. This must have started when I was just a teenager.'"
This year's gathering of Bulldogs drew trucks of all vintages in all conditions, and several stood out from the crowd.
Boston contractor shows off several Macks, old and new
Bob Greene runs a general contracting business based in Boston, and relies on Macks to get his various jobs done. He had four of them at Gerhart's Saturday, including a 1986 Superliner.
Greene recalls his first truck was a 1977 Mack he bought in 1981 right after graduating from high school. He still has it and it's been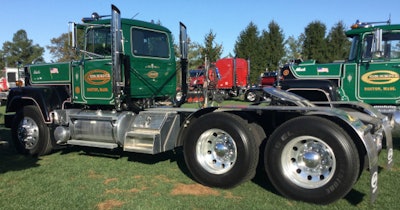 completely restored. So has the 1969 Dodge 500 that was back in Boston. That was the first new truck his father bought for the business.
At the show with Greene was his daughter, Shelby. She's a sociology major at Lake Forest College near the shores of Lake Michigan north of Chicago. Shelby is also the holder of a freshly-minted CDL, which she earned this past summer. She drove one of the Greene trucks the 375 miles or so from Boston to Lititz. She also drove one to the Hudson Mohawk ATHS show in Ballston Spa, New York late last month.
Milk hauler regains its former glory
It was another family affair that brought back to life a 1964 Mack "B" model that had spent all of its working life hauling fluid milk. It took weekends for two solid years for Rich Muys, Jr. and his father to rebuild the truck that came to them as a frame and part of the cab.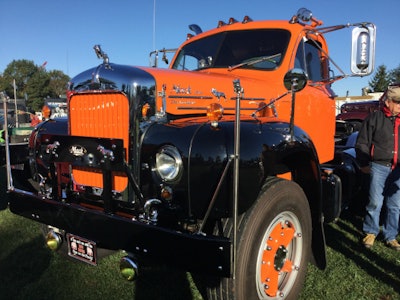 The 1964 B613 had been in the family since it was new. Rich Jr.'s grandfather hauled milk with it in Sussex, New Jersey until he sold it in 1986. Rich and his father, a retired military pilot of 30 years. managed to get it back from the man who bought it, and work began.
A new cab had to be fabricated using parts from a convertible firetruck. They managed to find new old stock for much of the rebuild and the younger Muys, a heavy equipment operator when not rebuilding vintage trucks, even painted it in the truck's original colors.
Today the bright orange and black single axle Mack has a 673 Turbo engine paired to a 15-speed Triplex transmission.
Autocar stands out among all the Macks
While Mack Days may, in theory, be all about Macks, any number of other makes of trucks are welcome. One such non-Mack interloper was Ray Slagle's startlingly bold 1959 Autocar DC102.
From Frederick, Maryland, Slagle said he's had the Autocar for six years and spent five of them rebuilding the former wrecker he found in Harrisonburg, Virginia. It has a 250 Cummins and a 4 x 4 Fuller transmission.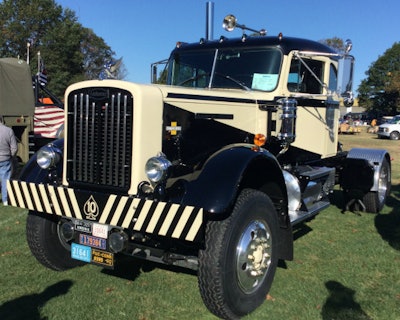 For Slagle, who was an owner-operator for 25 years and a company driver hauling food grade tankers, Autocars have held his fascination even before spending 50 years s a professional trucker.
"I've always liked Autocars since I was a kid," said Slagle. "They were the Cadillac of trucks here in the East when I was a kid."
It's always a bit of a homecoming for the Autocar. The brand got its start in Pittsburgh, before moving to Ardmore. Autocars have been built in several locations since then.
___
David Hollis is editor of Truckers News and admits he has a weak spot for vintage trucks. He may be reached at [email protected]