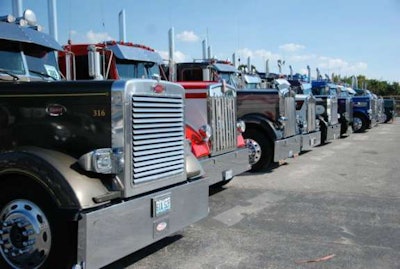 Two more prominent truck shows are the latest trucking industry events to fall victim to the COVID-19 coronavirus.
The Guilty By Association Truck Show in Joplin Missouri is now a virtual event this year. And, the Brockway Truck Preservation Association's annual multi-day show in Cortland, New York has been reduced to a one-day event closed to the public.
4 State Trucks owner Bryan Martin announced in a Facebook post Monday morning, July 13, that the biennial Guilty By Association Truck Show that was set for Sept. 24-26 this year has been postponed to 2021.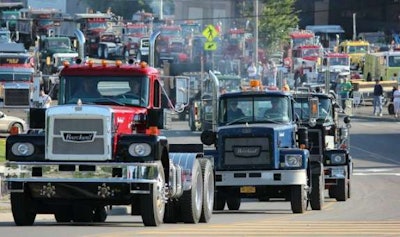 "While working on the finishing touches of the best truck show of the year, it became evident that we were going to have to downplay several of the key events that make GBATS so fun and exciting," the Facebook post reads. "Our main entertainer for Saturday night canceled on us last week due to COVID-19 concerns, several sponsors and longtime exhibitors were expressing concerns, and Joplin has been dubbed a [Missouri] hot spot for the virus."
The next iteration of the event was scheduled for 2022, but 4 State Trucks will host GBATS in 2021 to make up for the missed show this year.
In lieu of the live event this year, 4 State Trucks will host a 4-hour Facebook Live event on Friday, Sept. 25. Details of the event will be announced at a later date.
Meanwhile, instead of meeting Aug. 6-9 as planned, the Brockway show will be a one-day gathering at a local ski resort.
Eric Sweet, secretary of the Brockway Truck Preservation Association said the gathering Aug. 8 will be held at the Greek Peak Mountain Resort ski area in Cortland, the Upstate New York city where Brockways were manufactured. He said the gathering is open only to BTPA members or folks who had a truck registered last year. The public may not attend.
Of course, there will be COVID-19 precautions taken. Sweet said folks will be required to wear masks per state guidelines at the Central New York Living History Museum for the evening's fireworks.
He said pre-registration is required to facilitate contact tracing if necessary and temperatures will be taken and recorded.
Organizers are also soliciting photos of Brockways to be included in a video.
GBATS and the Brockway gathering are the latest truck shows and related events to fall victim to the COVID-19 pandemic, which as of yesterday had infected some 3.3 million Americans and claimed 135,300 lives in the U.S.
The cancellations began in March when the Mid-America Trucking Show canceled. Others that were canceled and/or been forced online include:
Antique Truck Club of America's National Meet in Macungie, Pennsylvania
East Coast Truckers Jamboree held at the Kenley 95 truck stop in North Carolina
American Truck Historical Society's annual convention and truck show
Mothers Day Convoy in Manheim, Pennsylvania
Walcott Truckers Jamboree at the Iowa 80 truck stop
Annual Friends of Autocar show and luncheon
American Trucking Associations canceled its National Truck Driving Championships and National Step Van Driving Championships, which was to be held in August
Great American Trucking Show, which will hold several of its signature events online next month